Serge Gainsbourg - Le Poinçonneur des Lilas
Our first few days in the Philippines were privileged, not in comfort but in the luxury of living with family, with their stories and inconceivable hospitality. Leaving San Narciso, we decide to play tourists and head with Dad F to Baguio and Sagada, towns of the Mountain Province. "This will be a long ride," my lady says. "OK, of course", I reply, slow to realize that this will be a story of a journey, rather than one of a destination.
It starts with a one hour car ride from San Narciso to Olongapo at 5am, accompanied by the everlasting playlist from Uncle F (this time, greatest hits from Sting). We get in line for a 6-hour bus ride to the city of Baguio. Little did I know that this was one of the most comfortable bus rides we'd find, with front seats and AC. There's even a TV above the driver, plugged to a DVD player stuck in the overhead bin, full of pirated content - not sure Muni or Caltrain would approve. The driver chooses a mix of soft rock love songs, which will play at full volume until arrival. There's another employee on the bus, providing tickets and fares. To my naive puzzlement, he still uses one of those old school hole-punchers (hence the song choice for this post - private joke for my dear Frenchies). I put on earplugs and start getting lost in my Kindle. She makes sure to shove her elbow in my ribs whenever she feels like lip-syncing.
After a few hours climbing the mountain (we go from sea level to 5000ft), our bus overheats and breaks down. We all get out of the bus and wait for the next one. I hope for somewhat of a line, but we're getting pushed every time a bus comes in, as only a few lucky ones will onboard, the others will wait for the next. As I get somewhat annoyed, I remember a few restaurants and other lines we've been in. As tall as I am, I always got pushed aside. But I also realize that no one is complaining, and no one ever did at the restaurant when food ran out; they just move on. I get stuck in between two cultures: a hustling Asian world, skipping lines and grabbing what it can; and an ordered Western world, waiting in line, but also self-entitled to what they paid for, and to make sure to consume. At that moment, I'm not sure which one I prefer.
We get to Baguio in mid-afternoon, with little time to waste, as we're leaving tomorrow for the second half of our journey to Sagada, another 6-hour bus ride.
Baguio is nicknamed the Summer City. I had thought of it as a resort town (in the mountains??), but I understand better as we arrive. Summers are unbearable in the Philippines so people go to colder climates, like in Baguio. Quite the culture shock from my childhood French summers, driving hours on end to the South of France to soak up the sun. The summer house of the president is there - The Mansion. Most places we walk to are nicer and better maintained than we've seen in other parts of the country. We even see a bookstore, with a signing session from a Chinese poet; on the wall are the signs for Baguio's first craft fair. There are no tricycles around (I'll realize later it's simply because they wouldn't be able to climb up the hill). With the cool 65F, it's like a different country. I seldom see poverty and start wondering why -- did they do something different here? My running theory is that Baguio was a big destination for the U.S. military men longing for better temperatures.
The next morning we already leave to Sagada at the early hours. A quick taxi drive to a different bus station reveals the other side of Baguio. The bus station is surrounded by crumbling buildings, still filled with people. Then I understand that Baguio's infrastructure may be better kept, but they're also better at hiding its other side. Even though we're an hour early, the bus we wanted is already full and we have to wait for the next one, scheduled for 9:30am. Not a very big problem. Here, buses leave when they're full, not when they have to.
This bus ride is a much different story. We have the last seats on the bus, all the way in the back, and I am sitting in the middle, towering everyone. I remember my childhood bus rides when these seats were the most prized of the lot. Here, they're the shakiest and most uncomfortable. Tall white man that I am, I had hoped to stretch my legs, until a woman unfolds a middle seat right in front of me. Her friend sits on my right and is openly grumpy about sitting next to the guy who takes too much room.
Forced to only look at the landscape and think (no way to doze off or read in these conditions), I spent the most amazing 6-hour ride, as uncomfortable as it may be. The driver speeds through narrow mountain roads, with barely an edge to protect us from a steep descent to what would surely make the news (or maybe it happens too often?). All turns and swerves are exacerbated by the fact that we're sitting in the back of a moving 15-ton vehicle. My latent fear of heights comes back, years after I last experienced it, and feeds adrenaline for a good hour -- until I get too tired to care and finally start looking on my left, at her, ever peaceful. My eyes set on her, then out the window. The landscapes are grand, amazing and indescribable. It's too shaky to take pictures or videos, but she manages to snap a few. It's an endless sea of hills, covered in trees, with the seldom tiny house popping at the edge of a cliff (how the heck did they build this?). We tower countless rice terraces as the sun shines through storm clouds. We pass small villages on peaks that make me recall documentaries about Nepal (which we hope to see later). A big storm breaks through and we have to close all windows, simply listening to the hard rain. We get to a river and have to take a detour as the bridge is not fit to drive. I look at the window as we cross the second bridge. Painted by hand with red, a sign says, "Light Vehicles Only"; the bridge is made with wood and creaks as our bus crosses, with barely enough room.
After 6 hours of scenery, we finally arrive in Sagada, drained. I find out later that the road we took is called Halsema Highway, and is famous for being in the top 25 most dangerous roads in the world, but also one of the most scenic ones.
We're being shuttled to the Rock Inn in a jeepney. The inn is in isolation from an already remote town. Dogs are sleeping everywhere, not caring about us. We will spend only two days here, before heading back on the bus to Baguio.
Sagada is a small mountain town, a few hours from Banaue, a village recognized by UNESCO for its rice terraces, part of the New 7 Wonders of the World. Exhausted from our trip, and with no envy to cram into tourist buses, we choose to avoid Banaue and only stay in Sagada. M and I hike to the Kiltepan peak for the 5:30am sunrise. As we leave the hotel, a dog wakes up and chooses to come with us. At the top of the short hike from our hotel, we're welcomed by a scenic landscape covered in fog, and countless jeepneys filled with tourists who beat us there. I realize then that this is our first real tourist spot we've visited since arriving to the Philippines ("oh wow - is that a couple of white people?"). A few stands sell coffee, balut or Cup O' Noodles; people wait for the sunrise by taking selfies (with the mandatory hand signs). We hike a little higher than everyone for some peace and wait for the sun to cast its colors on the clouds.
Later (and after a hearty breakfast) we head over to town with Dad F for a tour of the local wonders. Our guide Russell takes us to the Hanging Coffins (some of them perched for the past 500 years) and the Burial Cave. We learn that only the ones deceased from natural causes were allowed to be hung, as they can freely roam the world. The ones with diseases will go to the cave. We hike for two hours in the Sumaguing cave, sometimes half climbing or descending a rope. As I grab on to rocks and feel cool mud under my hands, I quickly understand that it is lovely guano. With my natural and amazing agility, I narrowly escape breaking a bone at least three times, but the experience is amazing. In the U.S., a hike like this would have probably required a helmet and three different waivers. Here, we're only required to take off our shoes, otherwise, it'd be too slippery. On the road back from the cave, we pass by a small valley of rice terraces, with such a beautiful sight that all regrets for avoiding Banaue are gone.
The rest of the time, we'll lounge, stroll around the town, and scavenge for the rare WiFi connection. Sagada is a pretty, quiet town, amenable to tourism without being overwhelming. We see signs of the 'town rules', as Sagada does its best to not become a party town (curfew is at 9pm). We feel free in the cool air, and long for a couple more thunderstorms.
It's already time to go back to Baguio, and start heading to Santa Catalina (her mom's hometown) and Vigan, another UNESCO wonder. Of course, after another 6-hour bus ride.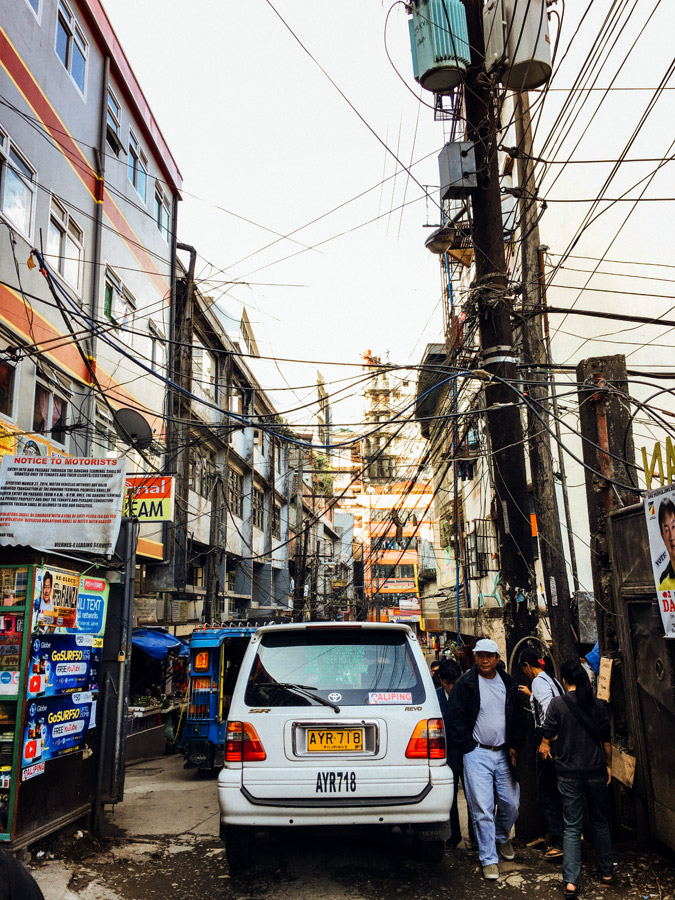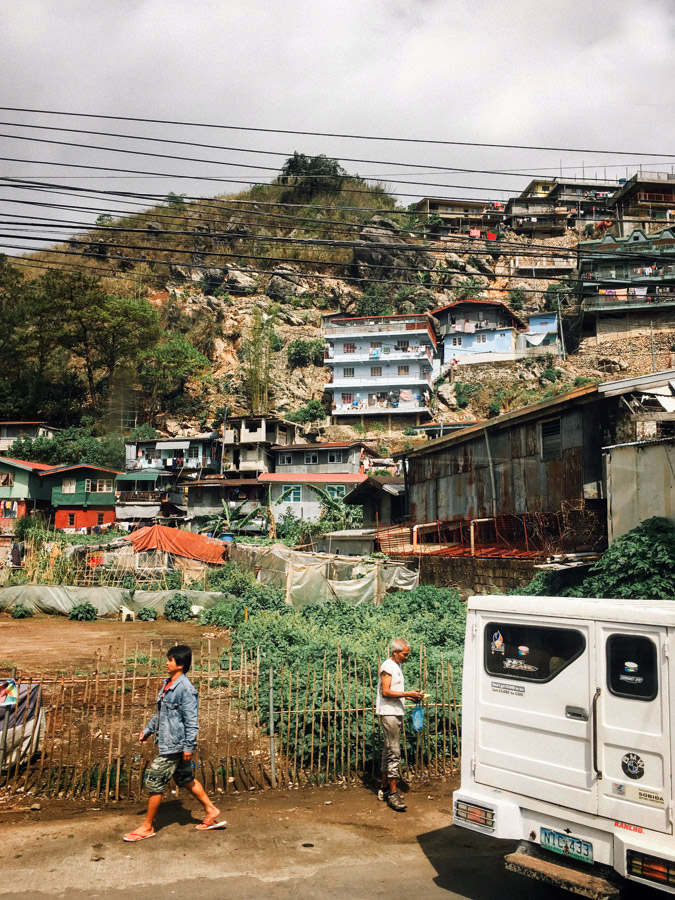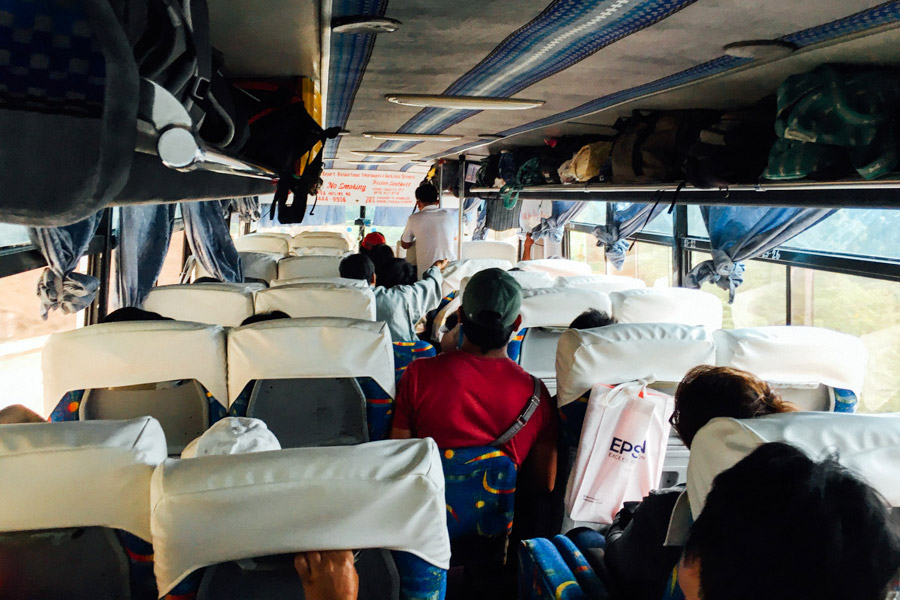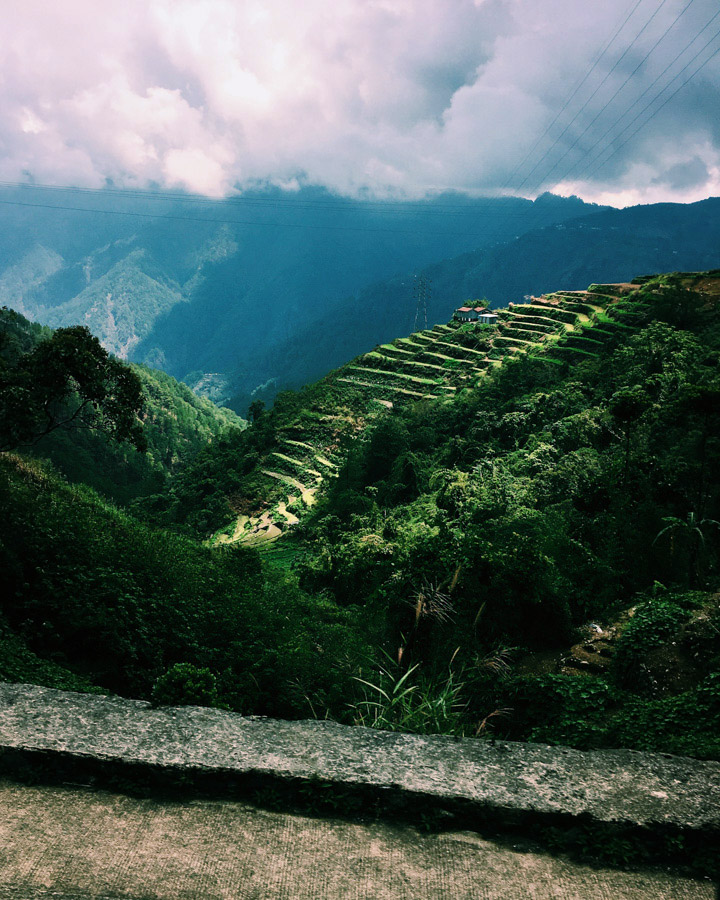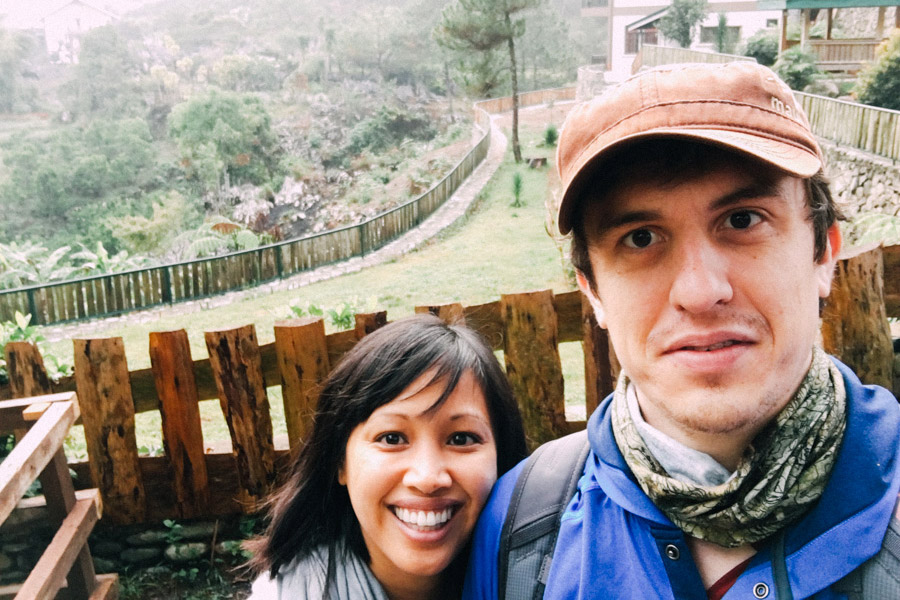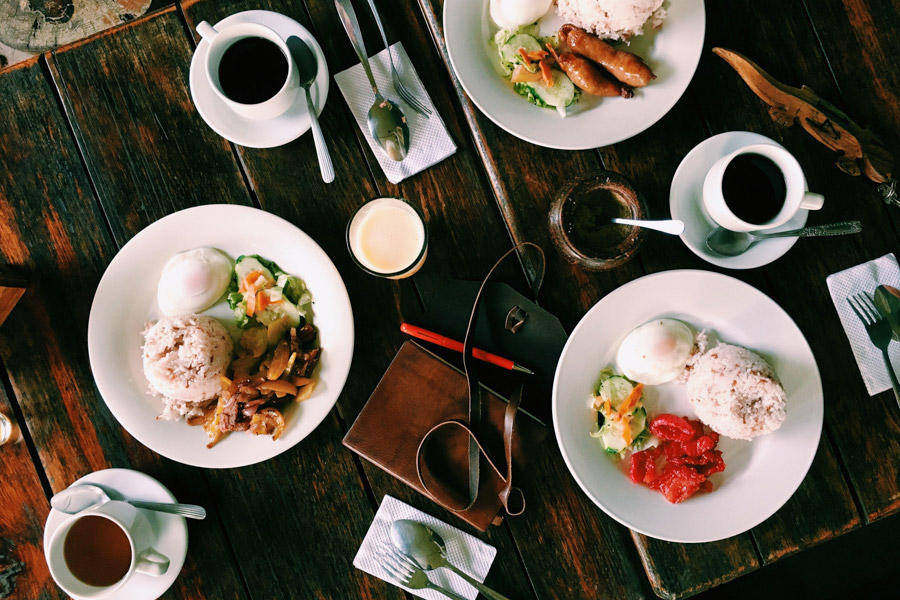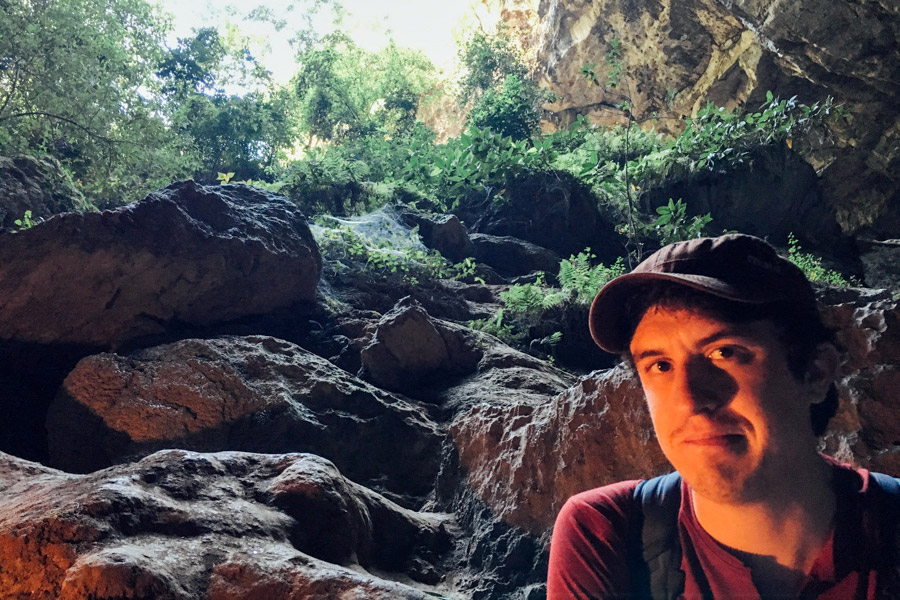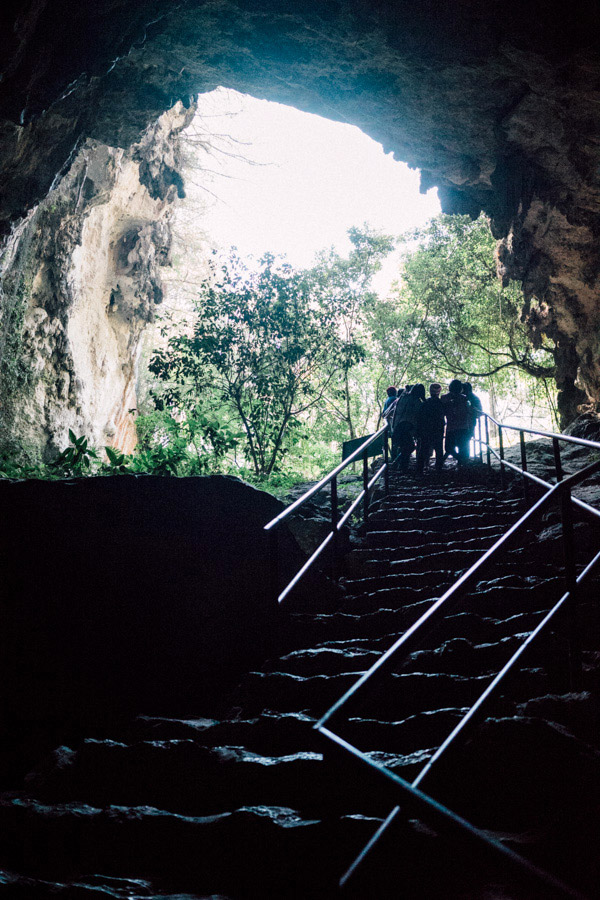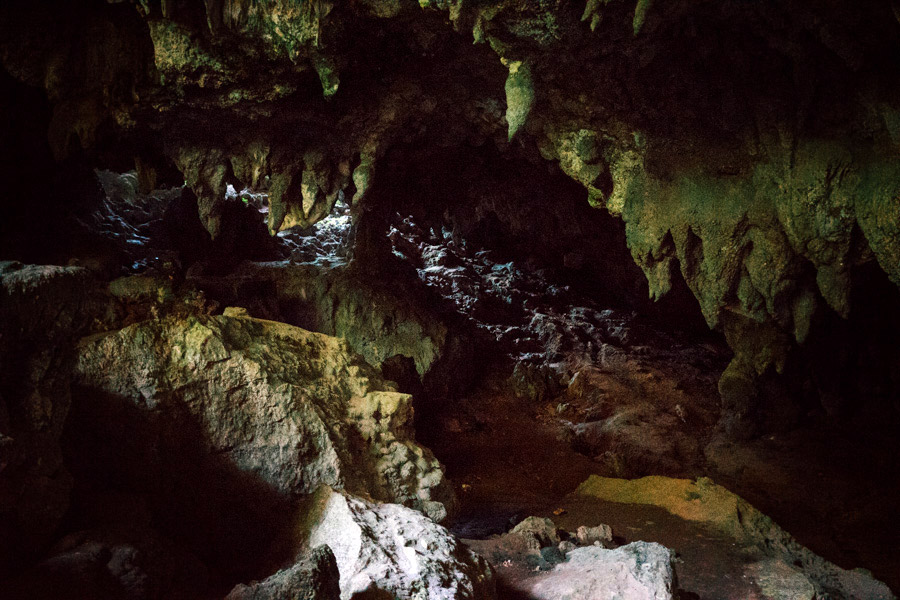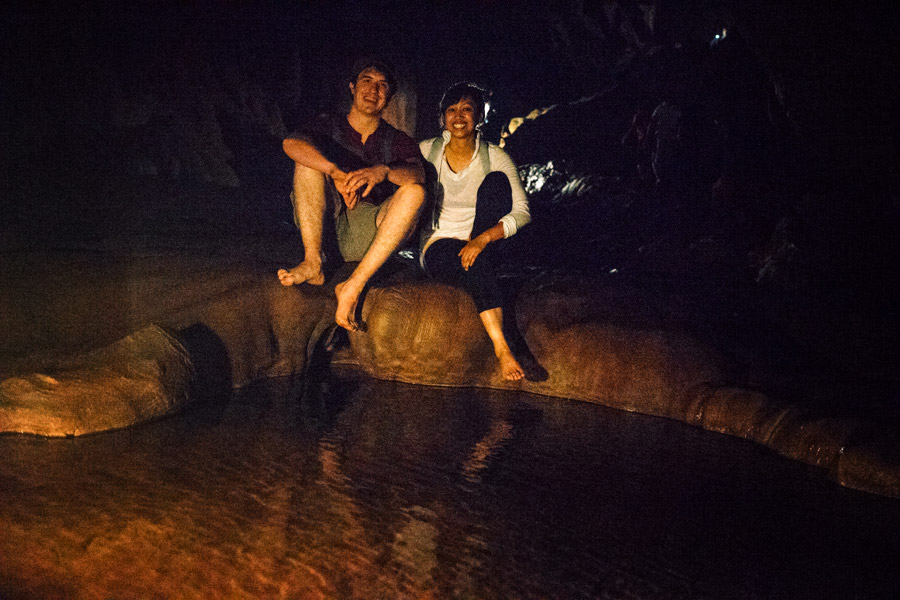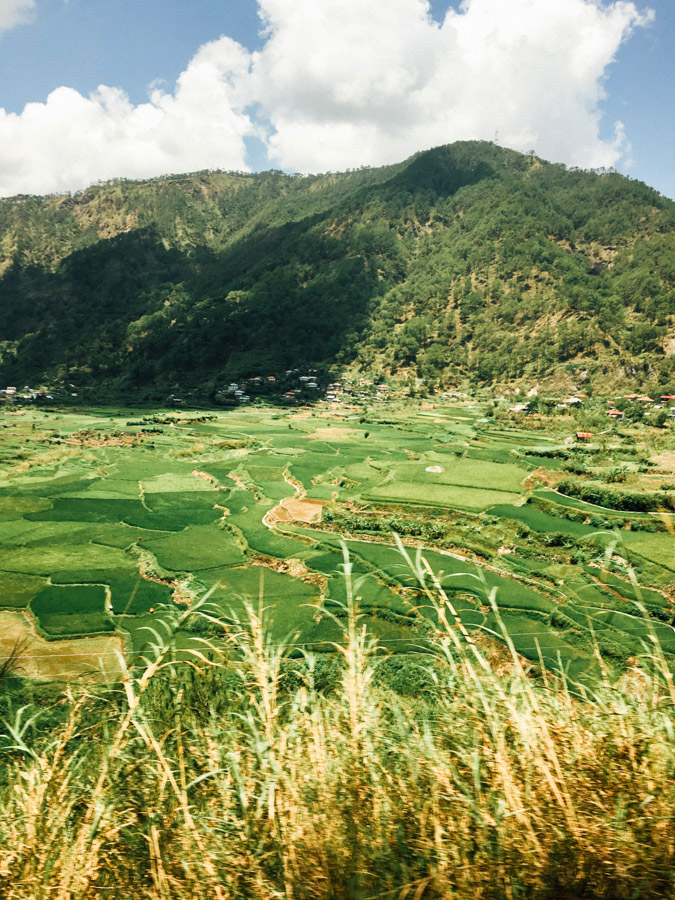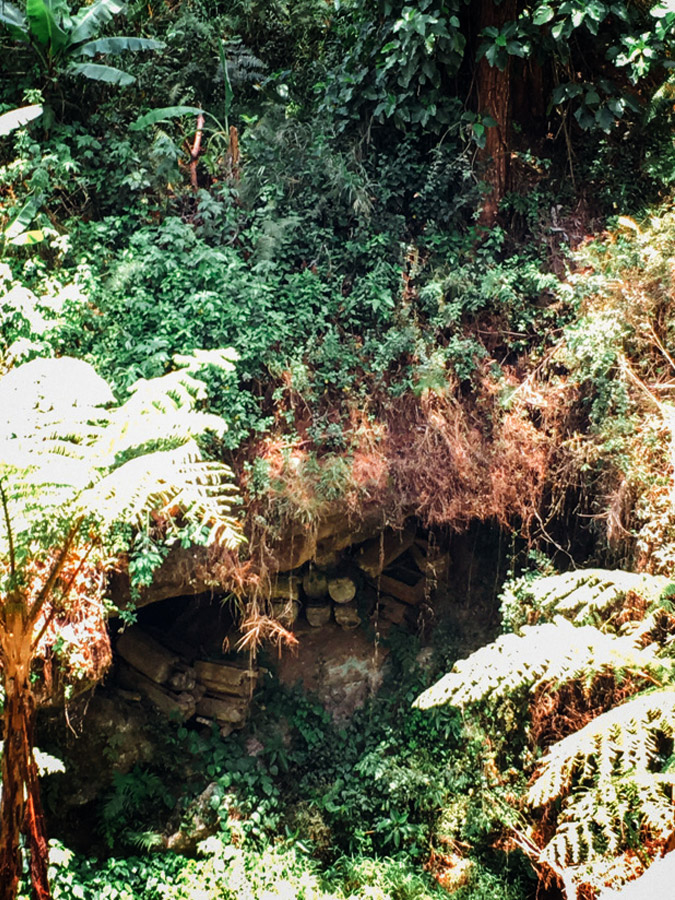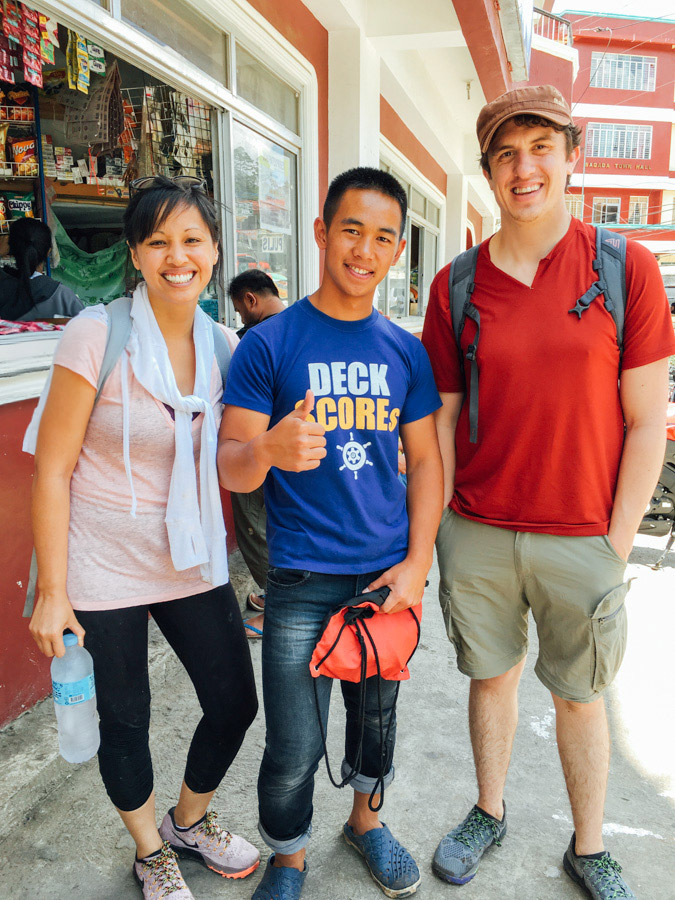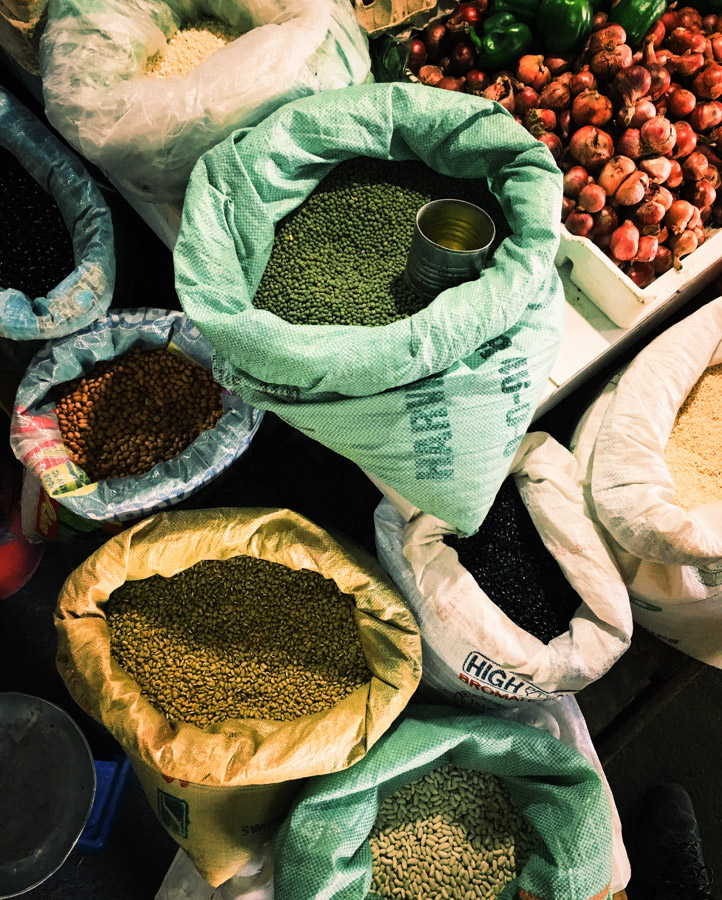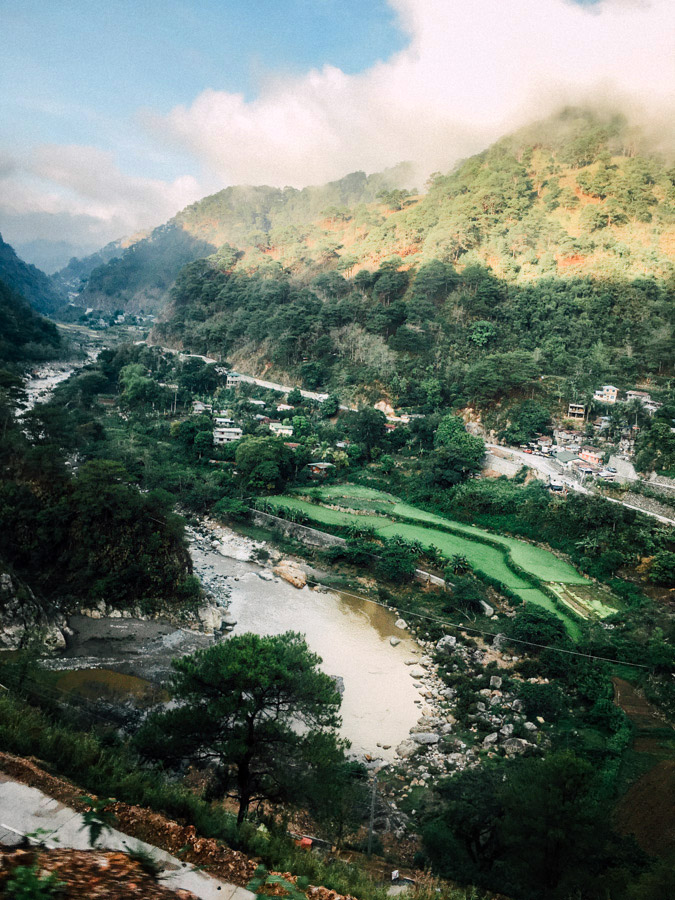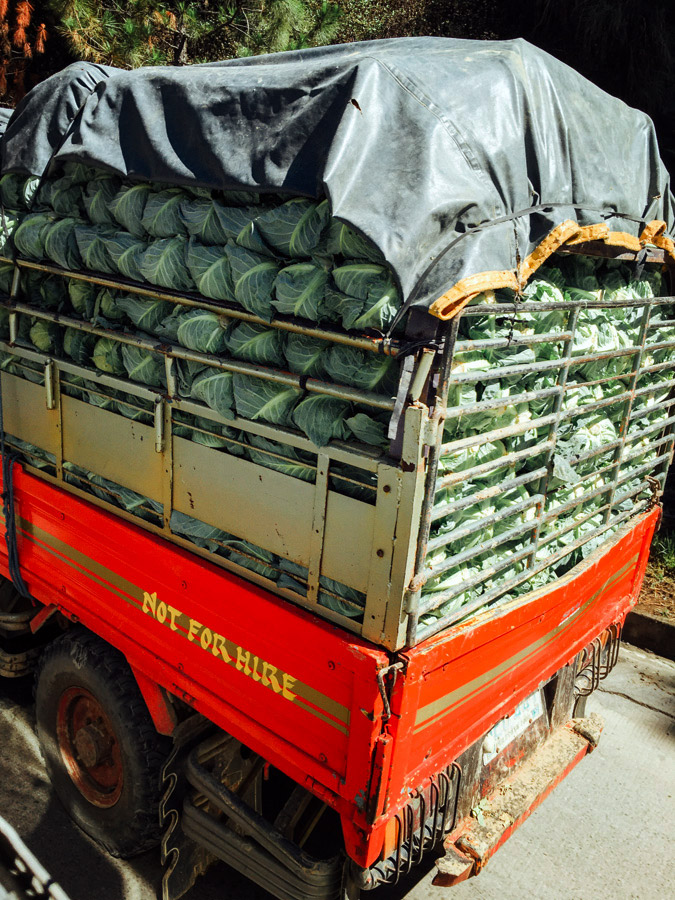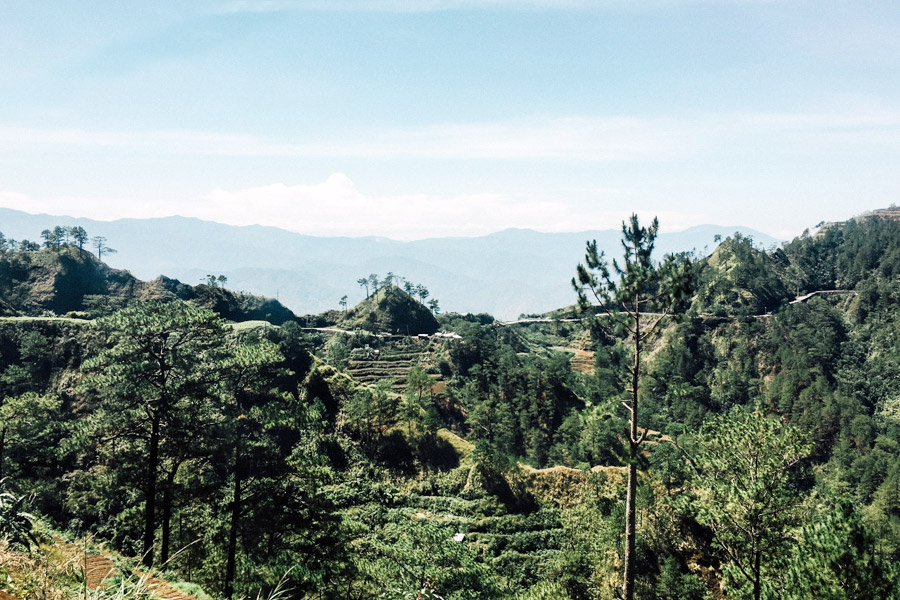 LINKS
Halsema Highway, from Baguio to Sagada is #9 in the top 25 most dangerous roads in the world, but is also one of the most scenic routes.
The cool air of the Mountain province should be experienced for anyone visiting the Philippines, but it is far, whether you are driving or riding the bus. We spent 5 days in total, 2 of them riding buses. Driving, or rather finding a driver, will make your schedule more flexible, but not necessarily faster.
Sagada is amazing and almost mandatory to get to Banaue. If you have time, we highly recommend this place. We do not regret not going to Banaue, as we were already overwhelmed by tourists in the few parts of Sagada. We might have missed a few good pictures, but certainly did not miss rice terraces.
Buses are cheap, and the best way to backpack through the northern part of the Philippines, but they are long and never on time. A 6-hour bus ride should be considered a full travel day. Leave as early as you can to beat traffic, and get to the bus stop early. As much as you can, prefer to grab a bus at the original station rather than on the way. We've seen countless people waving for the bus, but it would not stop if already full.