We arrive on the island city-state, staying only for two nights and a day. We had already settled on the usual sights, but we'll quickly be taken to a different side of Hong Kong.
As we land, a heavy downpour starts and our bags get delayed (read: getting a free cleaning outside). Forced to sit down with a growling stomach, I Google "Where to eat in Hong Kong," opening a few links without reading too much; the bags are finally here. It's 2pm, we're both starving, so fast food will do the trick. A quick metro ride to town starts to tickle our senses.
The ambiance is different: the British order tries to make sense of the Asian grit; nice infrastructure neighbors the small streets full of local vendors. The rain gives the prominent tall glass buildings a gloomy side worthy of the rainy England - it is typhoon season after all. And there's something we haven't seen in a while: a punk attitude. Hong Kong's reputation of cultural goldmine is well deserved. People of all colors, outfits, religion, sexual orientation - all in an Asian setting we forgot could work with a multicultural population. In the metro, a fancy-suited gentleman reads the newspaper, sitting next to a too-old-to-be pierced punk dude, his ear strapped to an old transistor; Asian schoolgirls are huddled next to them, tapping wildly on their phones, with the latest backpack fad and a Kiki power bank; a bump on the ride reveals the tall, edgy-but-classy Asian girl dating the punk dude; and me, too white, hair too long and flip flops that will get my feet dirty in no time.
We settle at the hotel, thanking our credit card points for the roof in the most expensive city in the world. I bring back the Google search on the Handy mobile phone given to all guests (yes, guest rooms in Hong Kong come with a free phone, unlimited calling and 3G data). I find this gem: thatfoodcray, a local food lover who wanted to share her tips. We understand quickly - we need to eat as many times as we can in the next 36 hours. Screw museums and waterfront, I want my belly to hurt.
On our first night, we hit one of the cheapest Michelin-star restaurants worldwide: Tim Ho Wan - total bill for two: 115 HKD, or 15 USD. That's right, a Michelin star rated restaurants for $7.50 each. Belly happy, we look for dessert and find another treasure Heart's Dessert: congealed coconut water with crème caramel and coconut milk on top. I'm about to die from happiness - Madie decides to barrel roll instead of walking. We crash in the room with our watermelon bellies. At some point we had lost weight on this trip.
We continue the journey the next morning, walk down to the harbor with coffee, pineapple cakes and egg tarts from a small shop nearby. We enter a small park and are greeted with comic book characters statues, a labyrinth and a group of grandmas with swords. Tai Chi is no joke here. Needless to say, we keep going. We find our way to the top of Victoria Peak aboard an Uber to avoid the 2-hour line to the tram, snap the pictures and come down on that same tram for half the price. It's good to not feel like a sucker sometimes. We're almost hungry and scavenge for a famous beef brisket spot, unfortunately closed on Sunday, and find instead a ramen and tsukemen restaurant, for one of the best I've had in my life (until we got to Japan). We conclude with the tapioca pearl tea cleanser (read: dessert, because we're too full) and cross paths with a surprising number of Filipinos until we come back to the hotel.
Madie unfortunately starts getting sick (not of food), and our adventure needs to slow down. A hole-in-the-wall Mediterranean restaurant a few streets down from the hotel will do. As we realize we're out of cash, the rain starts falling again - I walk aimlessly for a few streets until I find a proper ATM, swearing quietly to have forgotten the Handy phone. But the random walk takes me to a crowd gathered around a mic, TV, and loud speakers - of course there's public karaoke on the street.
It's with some regret that we leave, wishing we could have eaten more, maybe even seen more. But we're incredibly happy of the few hours we had here. Time to give back the free phone and head to real China.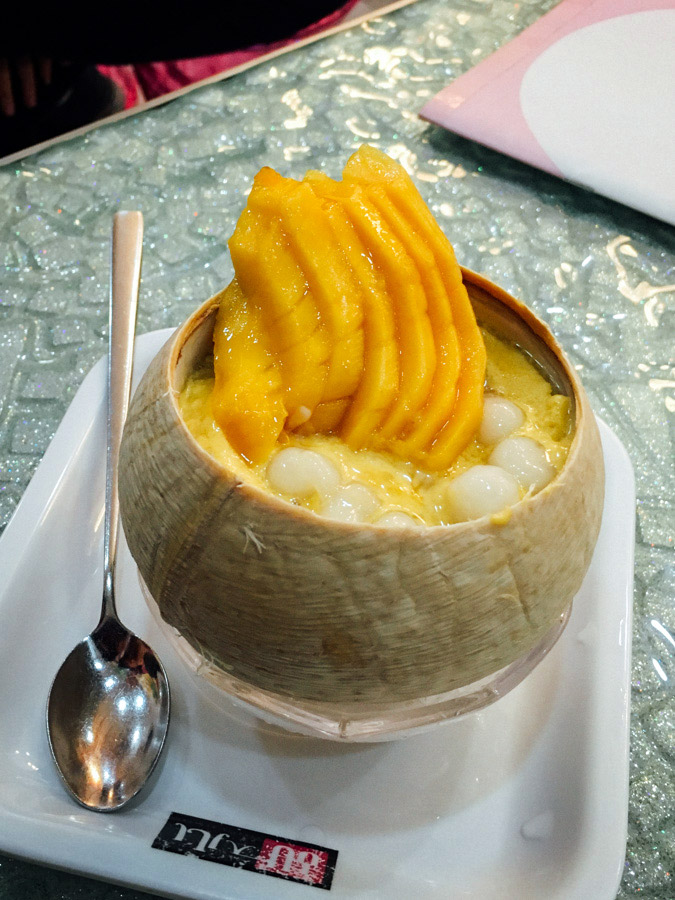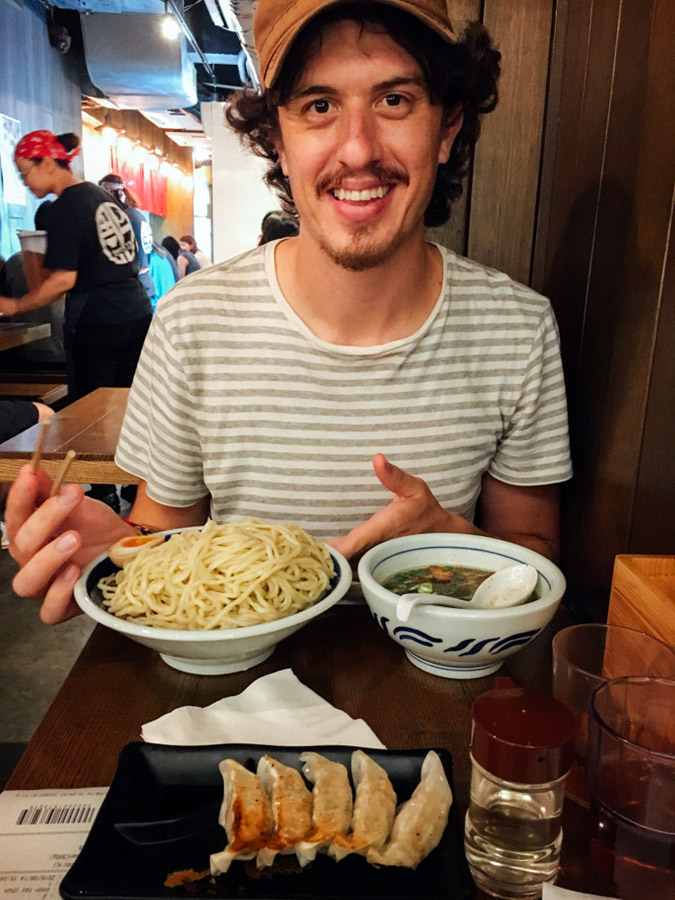 P.S.: While now part of China, Hong Kong is supposedly still under the formula of "one country, two systems," providing the city more lenient governing, even after being given back to China by the U.K. almost 20 years ago. The relationship between the city and China is very difficult to understand, let alone explain. But a few weeks later, elections were held for the legislative house in Hong Kong which displeased the Chinese government. There is a lot more to read online about this episode. After visiting China (post coming soon), we both hope Hong Kong's identity will stay as strong and wacky as it is today.