One advantage of traveling through Indonesia from East to West and ending in Sumatra: we're a short 30-minute flight from Kuala Lumpur, Malaysia. Because we need to be in Bangkok in two days to meet my family, Kuala Lumpur will be compressed into a 36-hour adventure.
We get there in the late hours of the afternoon; a quick stop at the customs and we're on a train to town. It already feels different, and unlike the Asian cities we're used to. The airport is connected to the train station by a luxury mall. The train is clean, comfortable and, to our amazement, quiet. We hop into a taxi and finish our ride to the hotel by foot, disoriented by the absence of the typical Asian city recipe: no noise, no tuk-tuks, no exposed electrical or telephone wires (take that, USA!), and above all else, no smell; the sewers are hidden below ground for a change.
But, as we arrive, it's already night and the market stalls are packed on Petaling Street. We can buy Louis Vuitton handbags, Rolexes, Nike jerseys, Lacoste polos, various smoking devices and, for whatever reason, men's underwear - all knock-offs, of course, but who knows, maybe I want to look cool too. Behind the stalls, men sit at the bottom of stairways illuminated by pink lights - the universal sign for the oldest job in the world. We crash at our small hotel, rocked by the lullaby of a weird rolling sound outside our door.
We're not nightlife junkies, so our visit is limited by the daylight. We want to see the city, and sadly skip the famous Batu Cave, instead choosing to get up early, enjoy cups of coffee with fancy latte art, and walk through the neighborhoods of Kuala Lumpur. After we browse through the Central Market to find another pair of bracelets, we head over to the old town - this city is the first we see with Western architecture, a backdrop of new buildings, all connected in harmony by the typical small Asian streets and markets. Unlike Manila, the Western influence here is British, not American, providing the nicer European-style to the old buildings. A beautiful Mosque is at the center of town but unfortunately closed off for renovation. On another corner, we inadvertently find the Sri Mahamariamman Hindu temple with a wedding in progress. The Indian population is quite large in Kuala Lumpur, and many of them have congregated here to celebrate the union. The place stays open to the public during the ceremony and we witness the beginning of the ceremony in our inappropriate traveling outfits.
We stop by the famous and underwhelming Yut Kee for lunch, on our way to the also-famous-and-underwhelming Petronas Towers, large and tall, connected by a skybridge 170m above ground - and clearly stating how much money there is to be made in this country. In an Uber to the next stop, I read that Malaysia is one of the first countries on its way out of the 'third-world' country camp, with a booming economy and a healthy growth (one of the best in Asia, and much better than France's). From the many signs and TV ads, we see the whole country doing their best to make Malaysia a better place, and they're succeeding. In 2015, Malaysia ranked 4th on The World's Best Retirement Havens while getting 1st as the best place in Asia to retire. Ha, maybe not such a bad idea after all.
There is a colorful Buddhist temple of Chinese influence at the top of the city - a first look at Buddha statues that we will see countless times in the next few weeks. And there, another wedding shoot, which I am careful to be part of at least once in their photos. After exploring the grounds we head down to the lively Bukit Bintang neighborhood for another fancy coffee, this one with a sourness reminiscent of the new SF trends (I had hoped to never taste it again). Then, strolling through the Indian Brickfields neighborhood, another heart and soul of KL, noisy and full of delicious smells, we conclude our KL fling with a delicious dinner at a local place where I can eat gleefully with my hands, with a promise to come back before our year-long trip is over.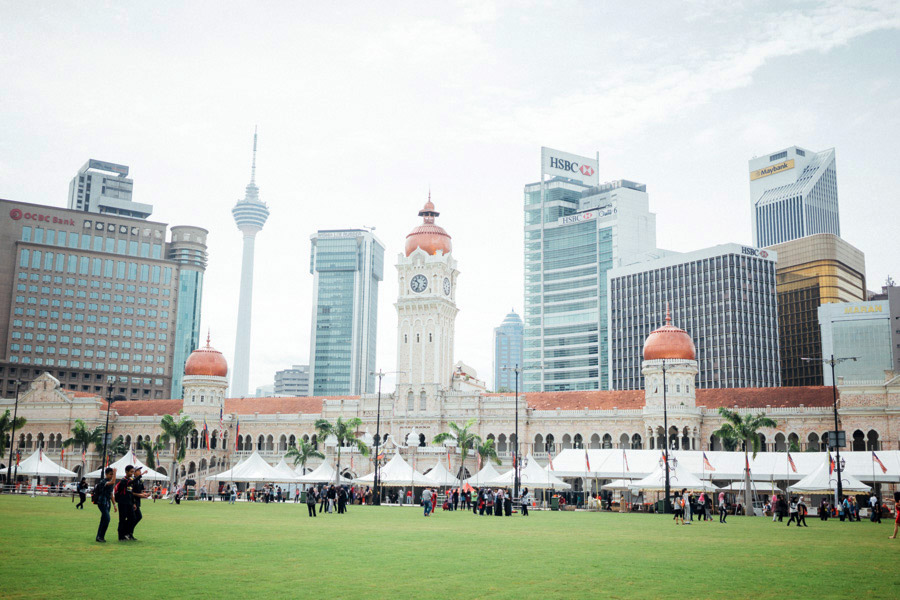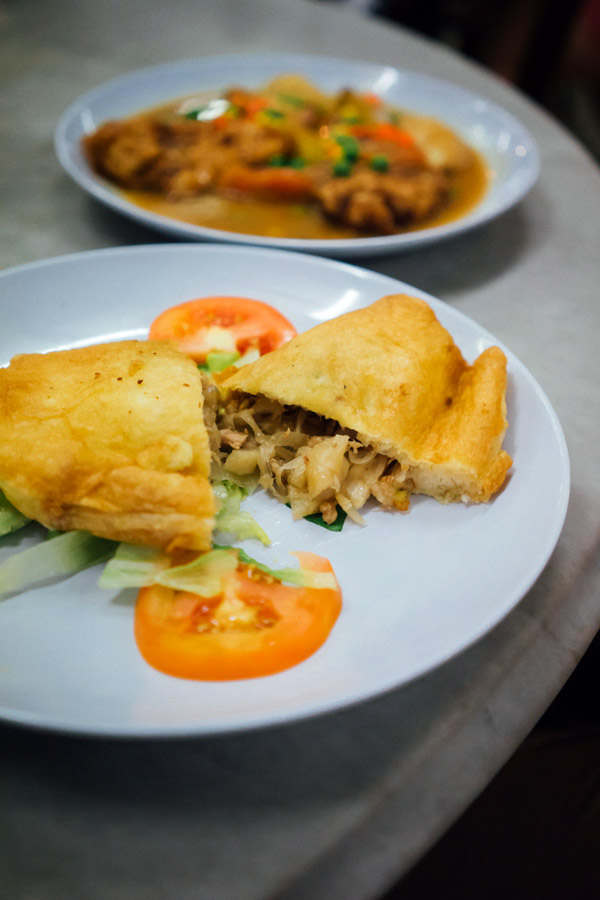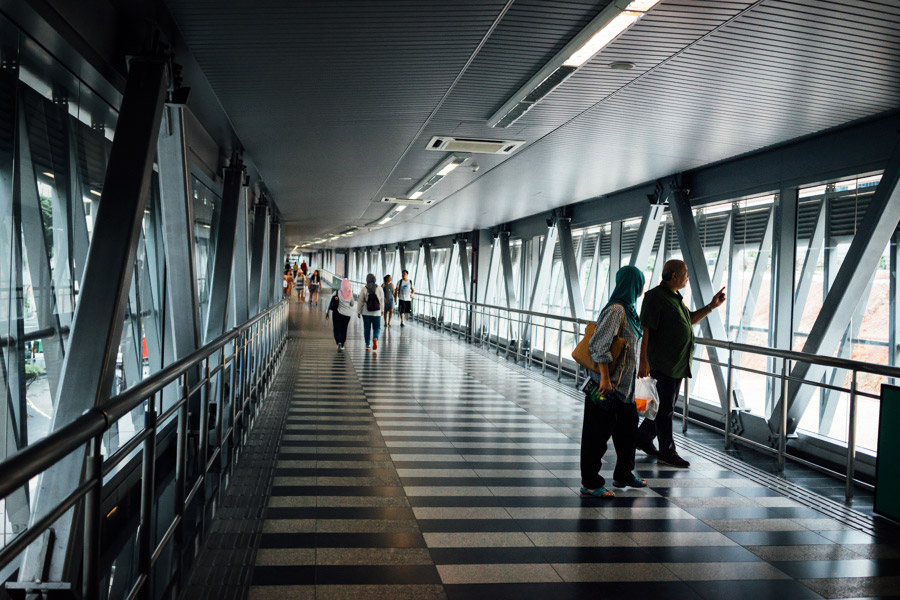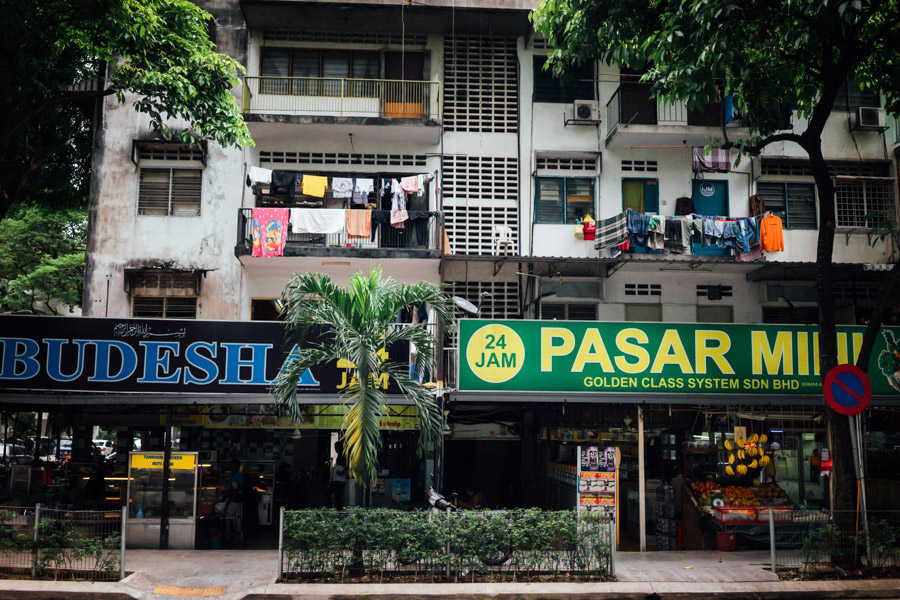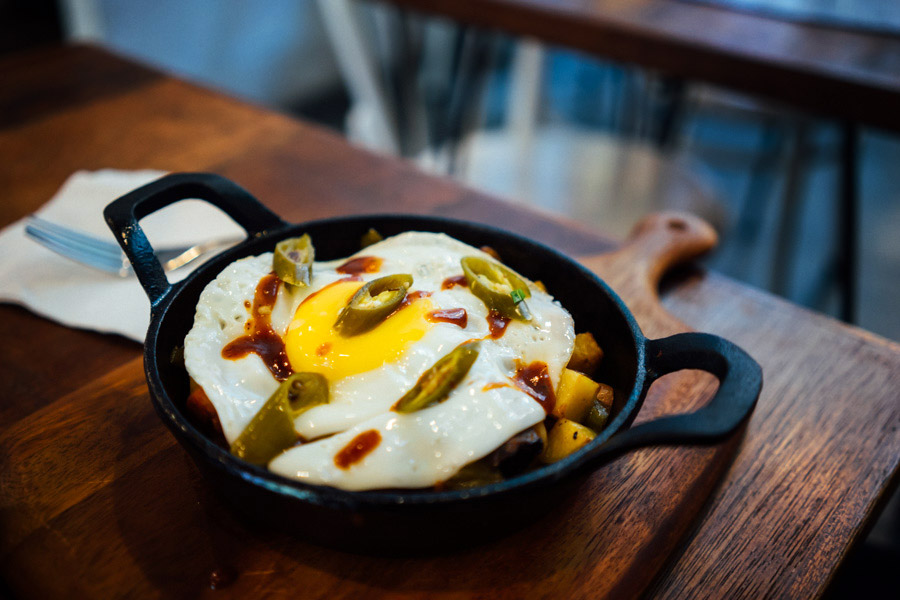 Links
It was a very short stop there for us -- here's what we saw, walking everywhere except to reach the Buddhist temple:
• Petaling Street has a famous night market, full of knock-offs and good deals. This is also where we found a cheap hotel close enough to everything we wanted to visit: The Rainforest Hotel.
• The less-busy day version of Petaling Street is at Central Market, which also has plenty of arts and crafts.
• In the old town, Merdeka Square is surrounded by beautiful monuments and museums, such as the Sultan Abdul Samad Building and St. Mary's Cathedral.
• The Petronas Towers should not be missed -- but no need to feel obliged to get up the expensive elevator onto the bridge.
• The Bukit Bintang neighborhood is home to many hostels, bars, cafes, and restaurants.
• The Buddhist Thean Hou Temple overlooks the city and is a beautiful place to see a peaceful side of KL.
• Our favorite neighborhood, Brickfields, is the Indian quarter. Some of the best food we had eaten in a while!
If you do have more time in Kuala Lumpur, head to the Batu Caves! We were told many great things about it and can't wait to return to visit them. Kuala Lumpur's public transportation also makes it easy enough to get around.