alt-J - Lovely Day
After our long and winding Mountain Province adventure, we visit my mother's town of Santa Catalina, Ilocos Sur in the northwest part of Luzon. We arrive in Vigan, and take a tricycle to her childhood home, where eight children were raised and worked in the farmland behind it. This place has history. Little has changed from my last visit in 2008. And back then, little had changed since 1998.
As we settle in and enjoy a meal prepared by my Auntie Jean (short for Regina), a wave of nostalgia comes over me. I'm suddenly compelled to share the experience about being back in my grandparents' home, and the memories of flavors from my childhood. "I want to write," I tell him.
Santa Catalina is situated by the South China Sea, so in addition to all the vegetable dishes (this region is known as the "Vegetable Bowl of the North"), there is a plethora of fresh seafood. We dine on fried fresh water fish called malaga, giant prawns known as padaw. We eat more Pinakbet, this time with a stronger bagoong base, and Bagnet (deep fried pork - yes, just what we need, another variation of pork!) with tomatoes and more bagoong.
What is this bagoong, you ask? Pronounced "bah-goh-ong," it is a fermented fish sauce that is the base of many Filipino soups and stews. It's also a nice addition to sliced tomatoes, when served as a side to fish, pork, or Longganisa. When my grandfather lived with us, he would make a large batch and store it in our garage. Today, my dad does the same.
My Father's Bagoong
Mix the ingredients together and ferment for at least three months.
Fresh whole anchovies or fresh filleted sardines
Sea salt
Purified water for consistency

Back to Auntie Jean's house… I feel comfort eating this food. It's familiar. It's my mother's cooking, my grandmother and grandfather's cooking. This was the food I grew up with in Los Angeles. It's funny that despite being in the place where this food is rooted, my memories of it were somewhere else.
We end the night (and every meal, as it turns out) with fresh mangos. They're golden yellow on the inside, and so so sweet. I eat only the halves, never the seed; my grandfather always ate that part. Then, we talk about the next day's plans involving a baby goat -- kalding.
NOTE: To see photographs of the goat being butchered, check out FARM TO TABLE: A GOAT STORY. Be foreWarned, the photo essay is graphic. viewer discretion is advised.
In the morning, my cousin John John (Auntie Jean's oldest son) picks us up in a tricycle, and we speed down the 1.5 kilometers of road through the coastal croplands back to their house. This is where we watch our lunch being prepared from farm to fire to table, over the next three hours.
First, my cousin Brian unties the young animal, a mere two years in age and 40 kilograms in weight. The goat is laid on a makeshift wooden table, its mouth gently cupped shut. Without hesitation, my cousins and uncles puncture its carotid, draining all its blood as quickly as possible. The blood, of course, is saved for later. (We later learn that the main butcher we nicknamed "The Assassin" ironically has a PhD in Criminology.) I'm close to the action because I want to document it. Alex is about 30 feet away. I want to turn away, but I don't, because I feel like I'm witnessing the animal leaving us peacefully. It's okay to watch, I remind myself.
We follow the torching of the hair, the scrubbing and separating of the skin, the removing of the legs, horns, head, and innards, and then the cleaning of all the parts before they are made into proper dishes over bamboo fire pits and slow burning coals. The men take their time, gather over the fires, walk to the cornfields and back. There is no rush, nor is there waste. They honor the goat this way.
I don't have pleasant memories of this as a child. One time I accompanied my father and grandfather to a goat farm somewhere in the hills an hour outside of Los Angeles. What I remember was not pretty: mature goat cries, bright bright bright red blood to blackened skin, bagged and set in the trunk of our car. From my bedroom window, I peered down into our backyard and watched as my grandfather butchered the goat himself. The flies, the smell. It was not pretty. (A kid shouldn't be allowed to see this, right?)
This time I feel different. This day, strangely, was a beautiful experience, and for the second time I'm compelled to write about the food from this farmland. The goat had a good life. It roamed freely on the property, and ate as it pleased. He endured a very quick and (hopefully) painless death, all very different from the cows and chickens we see along California's Interstate 5, and what we know of our mass-produced food in the U.S. This is why I made peace with witnessing the goat's death. From its last breath, he was treated respectfully, and created into wonderful dishes that nourished many people over the next few days: Kilawin, Kaldereta, and Papaitan (which I did not have the courage to eat; it's an offal soup that incorporates the goat blood).
Kilawin
Prepare all ingredients separately and mix together just before eating.
Thinly sliced and lightly grilled (rare to mid-rare) goat meat marinated with salt
Thinly sliced young, tender goat skin
Calamansi juice, vinegar
Minced ginger, minced shallots (lasona)
Sifted and boiled goat bile to taste
Salt to taste
Kaldereta
Prepare all ingredients separately and slowly add ingredients over the course of an hour.
Tenderized bone-in goat meat
Anato seeds, pineapple chunks, tomato sauce, bay leaf, minced garlic
Cubed potatoes, sliced red peppers, sliced onions
Soy sauce to taste
All the dishes were prepared in the style of my grandfather's; so there I was again, recounting memories of him, the food he taught my mother to make, and the food he brought with him to the US in the early 90s. It was bittersweet being at his house. He and my grandmother raised eight kids there, and sent all of them to college with the profits from their farmland. In the living room there is a portrait I took of him before he passed in 2008. So much has changed…
The land is still profitable. Crops are seasonally rotated and diversified. They are growing corn now, next will be cabbage then cauliflower; but not until after the corn has been husked, most of the husks have been eaten by the goats and then burned, letting the land rest and fertilize itself. It's hard work, but the land gives back to the people that care for it. This symbiotic relationship with the earth appeals to me… to work hard, to work outside, to reap what you sow, to eat what you sow, and be free, in a way.
The next day, we do a short obligatory tour through Vigan, the capital of Ilocos Sur. The city is a New7Wonders City and UNESCO World Heritage Site, recognized for its preservation of the Spanish colonial architecture along the cobblestone Calle Crisologo. It's early Sunday evening on a holiday weekend before elections; it's busy. We don't really want to be there, which is unfortunate, because I've been before, and without any people this place is beautiful. Anxious to escape the crowds, we leave and enjoy a peaceful dinner of Pork Dinuguan (meat and liver in a savory pig blood gravy) and Sinigang with malaga at Auntie Jean's house. It's delicious.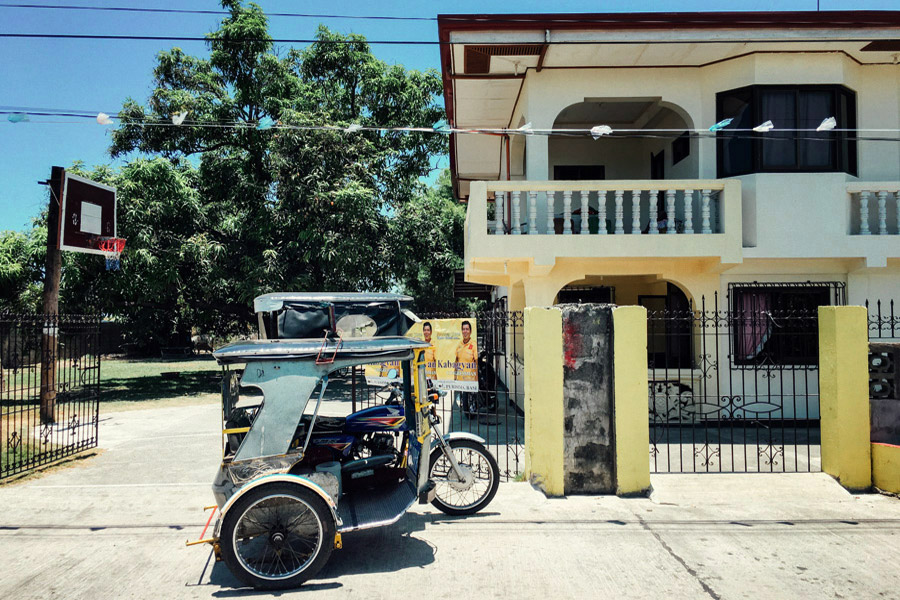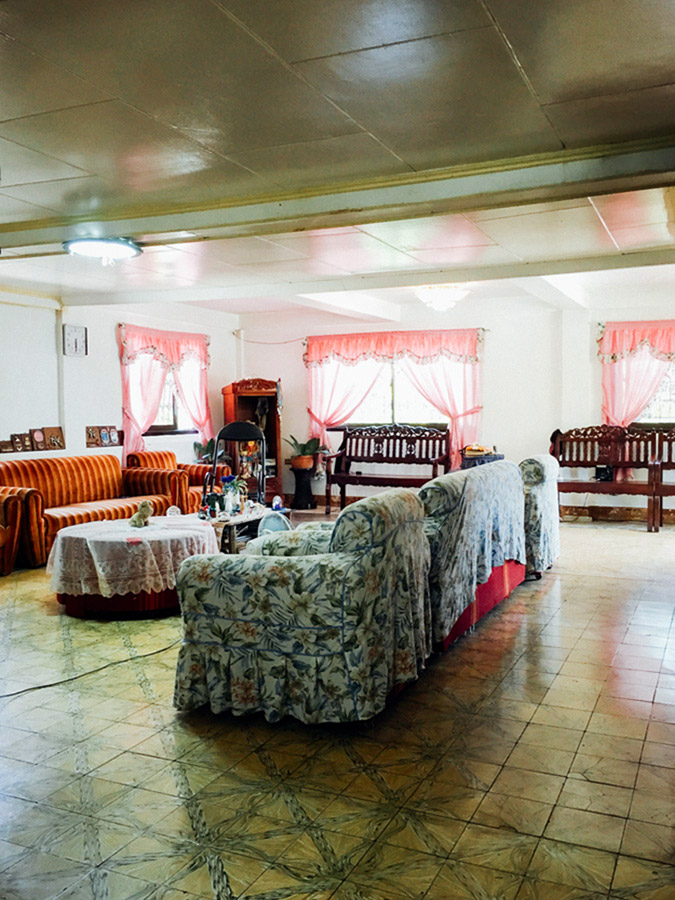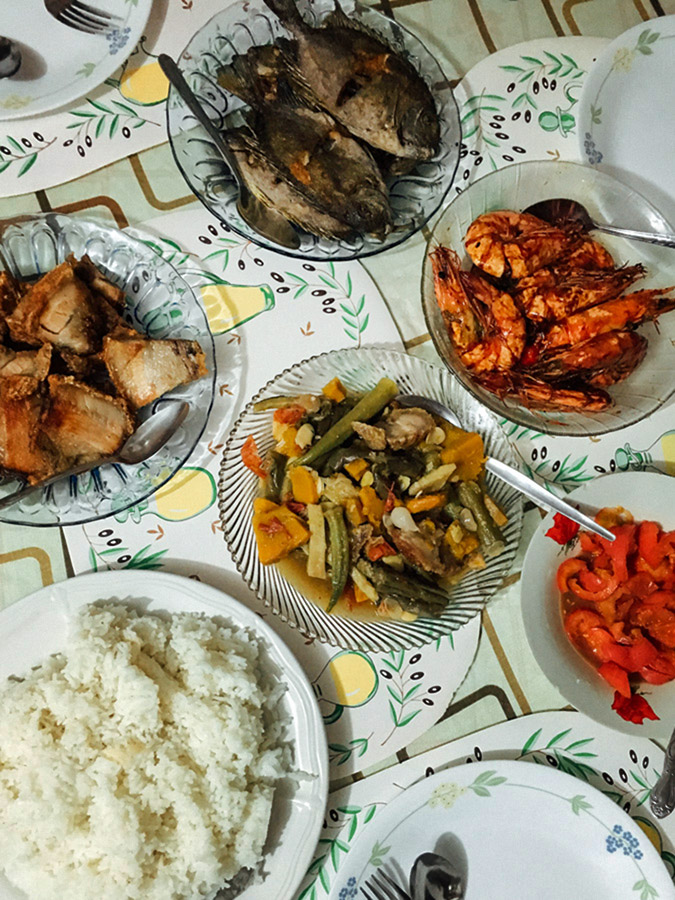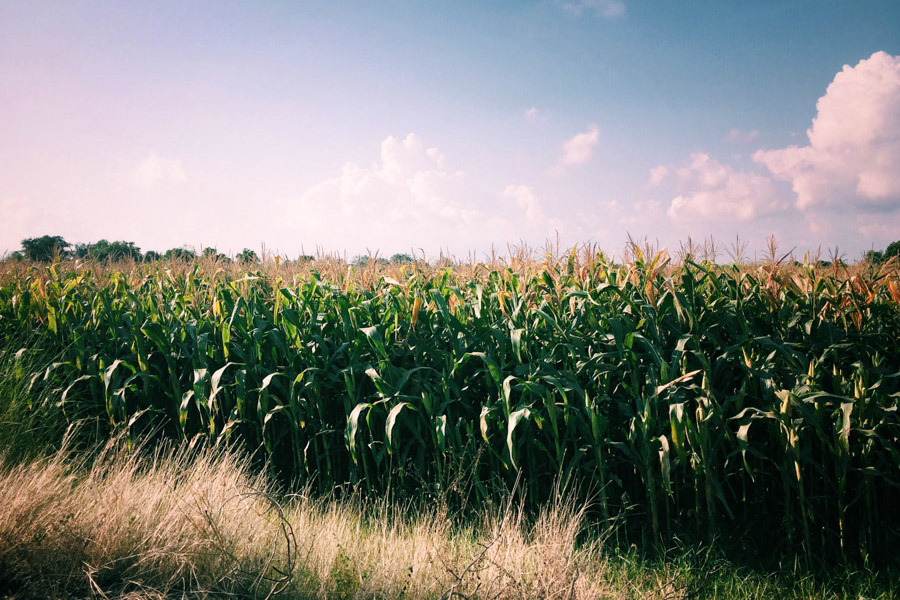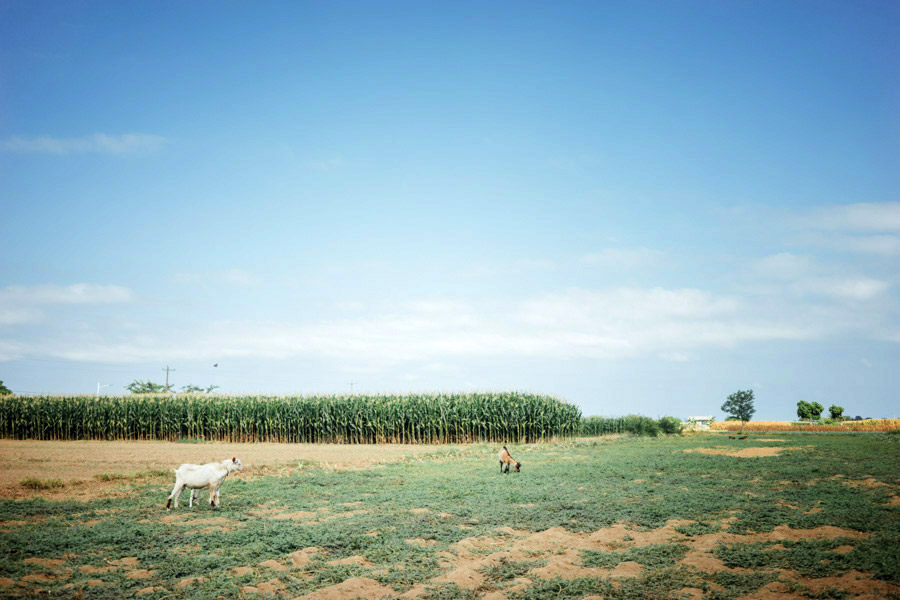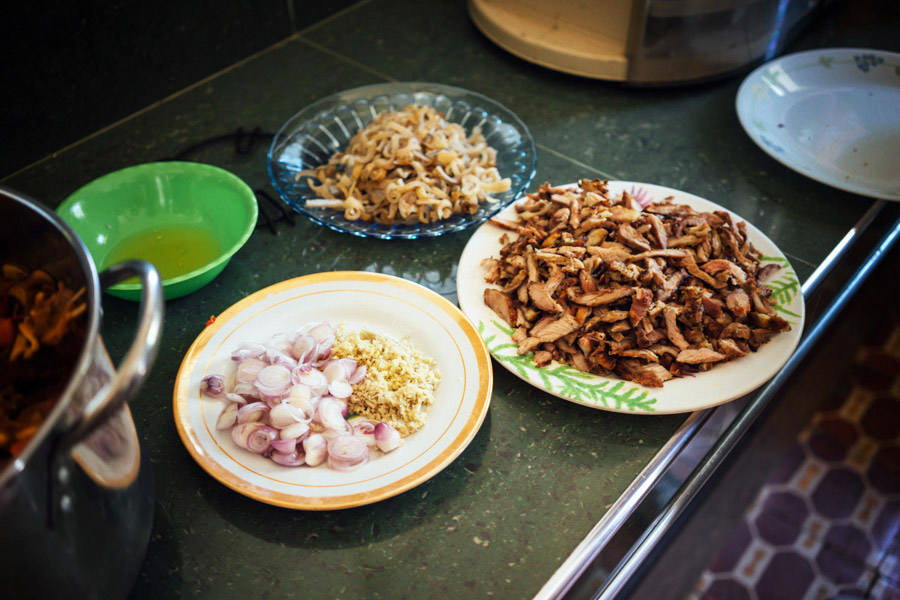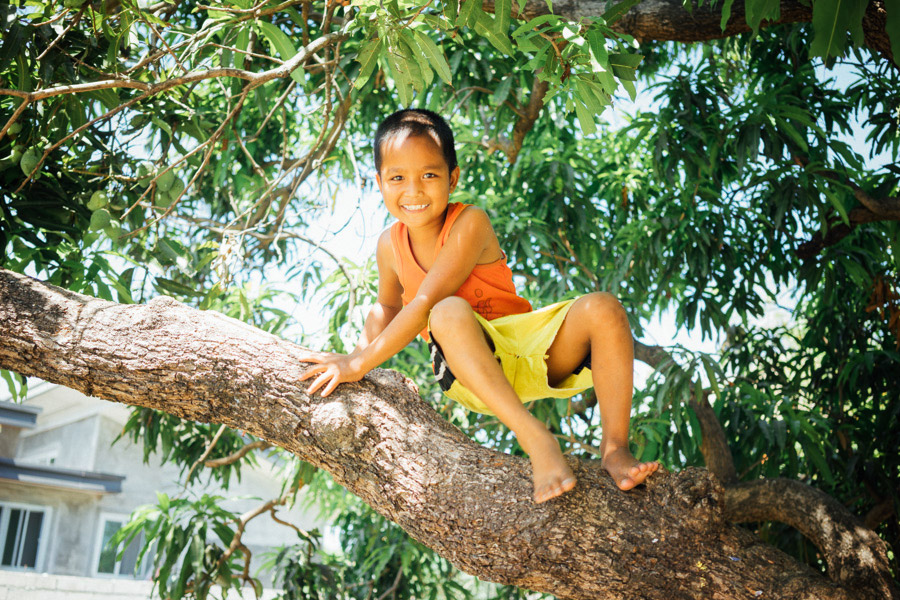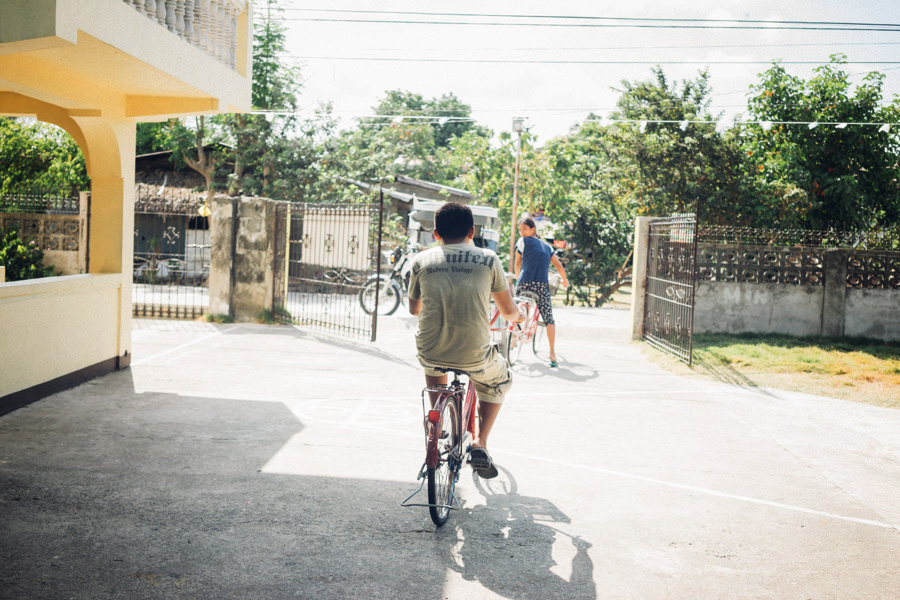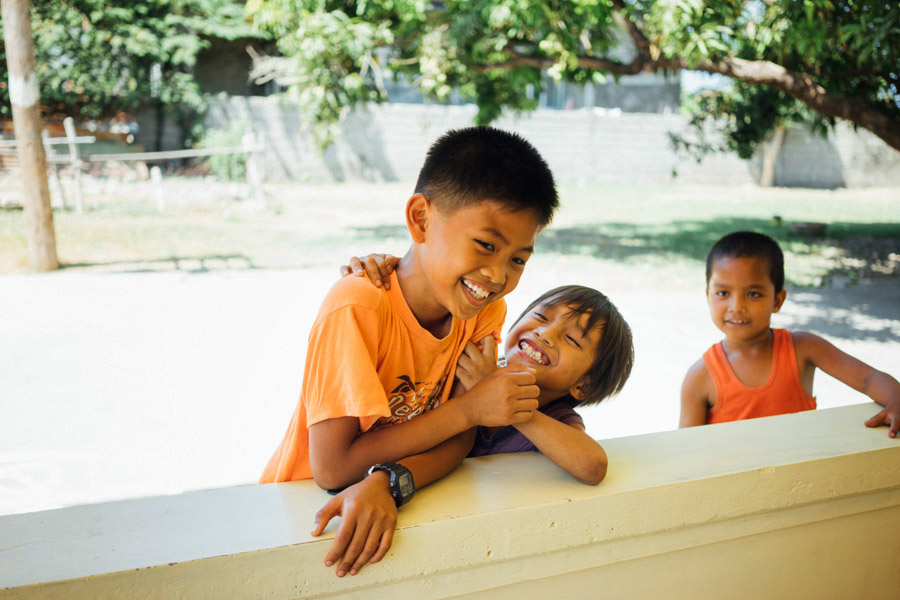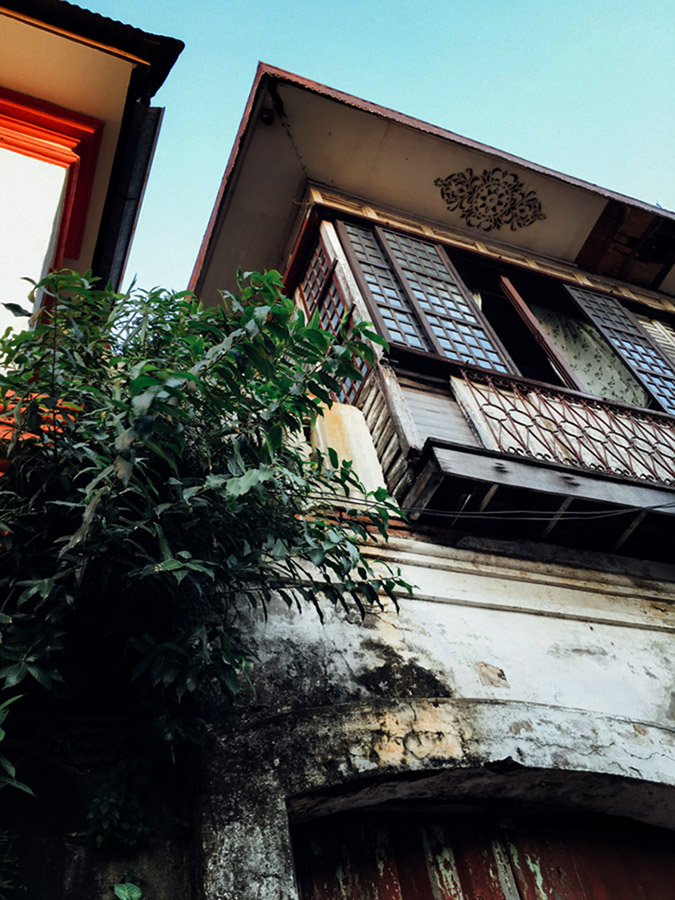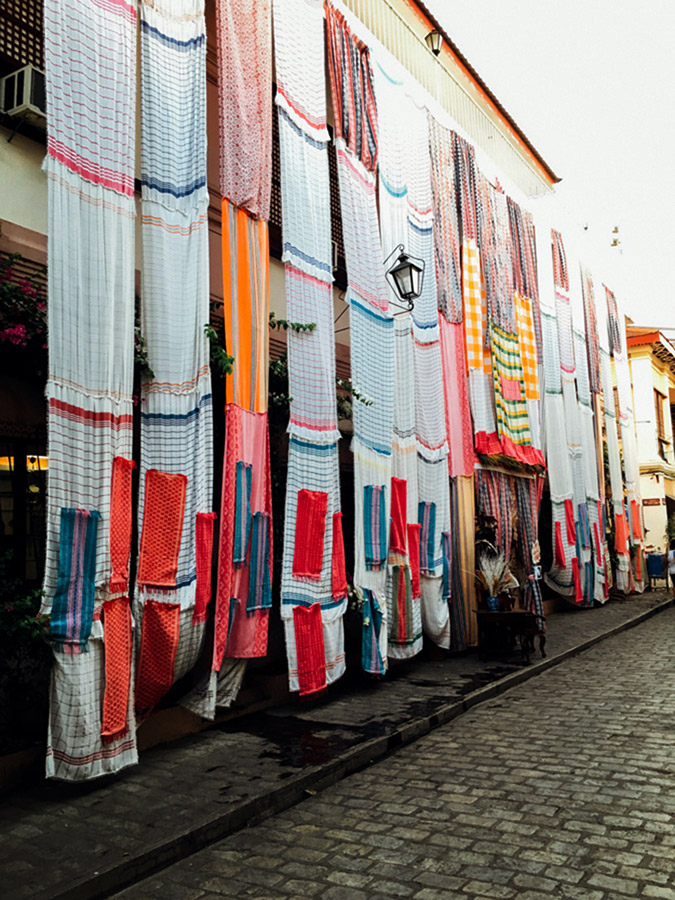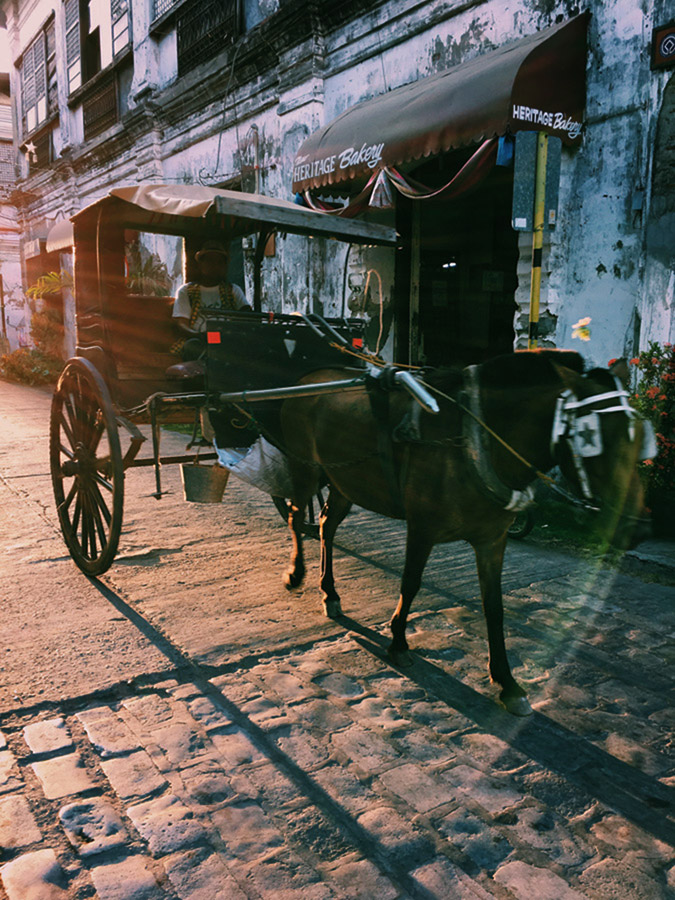 As we leave Santa Catalina, I think about my mother and her childhood. I think about my grandparents. I think about the food I'll prepare for my children. I'm motivated to learn more beyond Adobo and Longganisa, and hope to try making my own bagoong one day.
I also think about my Auntie Jean and her family. She is the only one of my mother's siblings still here in the Philippines, and in just a week, she will travel with my Uncle Johnny and cousins, to Los Angeles to live indefinitely.
"It's going to be hard for them there," Alex says to me. "They're so free here."