Tame Impala - Elephant
Close to the border with Vietnam, on the far east of Cambodia, is Mondulkiri, a region seldom visited by tourists who can only think of Angkor Wat. That was also our mistake, until we discovered @thenomadiclondoner's experience with a rescue project for elephants. Madie and I briefly discuss: "Should we try to go?" - "When are we ever going to have a chance to bathe with elephants?" (We had already missed Chiang Mai.)
It's the Year of Yes after all.
It will take two scary six-hour bus rides, stopping for a night in Phnom Penh, missing the famous Killing Fields, and speeding through the countryside of Cambodia fully exercising the Rule of the Biggest Car on the Road. After weeks in Asia, we were almost used to it, or rather, we knew there wasn't much we could do but wait and hope we wouldn't hit anything. This bus at least, has AC and comfortable seats. I dive into my Kindle, munching on rambutans - our new favorite fruit - and fried crickets generously offered by my neighbor.
We get to Sen Monorom, the main town of the region, at night. After a failed attempt to call the guesthouse, the nearby locals help us - as we've grown accustomed to in Cambodia. The ride to the Tree Lodge is in the back of a pickup truck, amongst another eight adventurers and their backpacks. I cling loosely to the top of the cabin, my ass falling off the side panel of the truck, feeling the rain on my cheek. We fill up on Khmer curry and settle into our $7 bungalow (with hot water, please). Our sleep is heavy, full of apprehension; I wake up fast, eager to spend time with the gentle giants. Banana & Nutella pancakes later, we get hauled onto another pick-up. I'm half sitting on a colossal amount of bananas in the back - Madie stuck between them and another elephant enthusiast - as we drive through the fields of the scenic Mondulkiri region. We park and each get a large heavy bag to transport down, as we try to follow Mr. Tree as best as we can.
Before we get to see the elephants, Mr. Tree sits us around for a hearted discourse on this place and his organization's goals. The Mondulkiri Project is a rescue program, aiming to give elephants a better retirement than transporting tourists or working in the logging industry. No one rides elephants here, not even the guides, called mahouts. The organization also helps protect the surrounding rainforest and the nearby tribal community, the Bunong, providing them with jobs (over 200), healthcare and education. I naively ask if the government is of any help, only to work up Mr. Tree and understand that the Cambodian government not only does not help, but almost often finds a way to get rid of individuals too successful of bringing about change. Mr. Tree's project is humble, and growing one elephant at a time.
We walk through the forest, a bunch of bananas in our hands, and wait at a clearing. At the end appears Comvine, a 30-year-old elephant female, walking towards us as my heartbeat quickens. She takes sweet bananas out of our hands and quickly gulps them down, reaching immediately for more. Her trunk, warm and wet, is also nosy and inquisitive, as she searches for the next fruit by smell. We follow her for a while as Mr. Tree explains her past life carrying tourists. The parks in Siem Reap attempted to buy her, as they had bought her mother, but the Mondulkiri Project was able to secure enough funding to purchase her instead.
A quick walk back to the hut, we meet the other elephants: Sophie, Lucky, Happy, Moon and Princess. All female and only one still able to bear calves. (Mr. Tree is still saving up for a male.) We will spend the next hour simply being with them, exchanging looks and feeding them. Some have holes in their ears, a sign of their past lives of logging and carrying heavy equipment. Others have a broken back, often caused by the planks used to take people on elephant rides.
After a short lunch and nap, we approach a nearby river for the highlight of our day: a bath with the elephants. We all get in the water as Comvine approaches again, guided by a mahout, she dives in the water with us. Her happy ears flap as we do our best to scrub and spray water. We all hover around her, armed with more food and carefully treading the waters to not get our toes smashed by her giant feet. Princess joins us later, doing in the water what even princesses do: poop - thankfully downstream. Happy follows her into the water, leaving quickly as soon as we run out of bananas. We'll watch the other three (less gentle) elephants bathe themselves at another river nearby.
As the adventure ends, we all head back to the lodge, our heads full of elephants, and our ears slightly bigger. We leave Cambodia a few days later after resting in Phnom Penh, unfortunately missing the Killing Fields (again). We have to rest some days after all.
In only nine days, Cambodia left a big impression on both of us. Angkor was a breathtaking region but the country has a lot more to offer, the majority still unexplored by most travelers - maybe what Indonesia was like 20 years ago. But Cambodia is still bruised from its all too recent history. As we've come to understand, there is a lot of work left, especially with attaining a more democratic government. Despite this, the Cambodian people are the gentlest and most hopeful we've met, and I'm betting on Mr. Tree.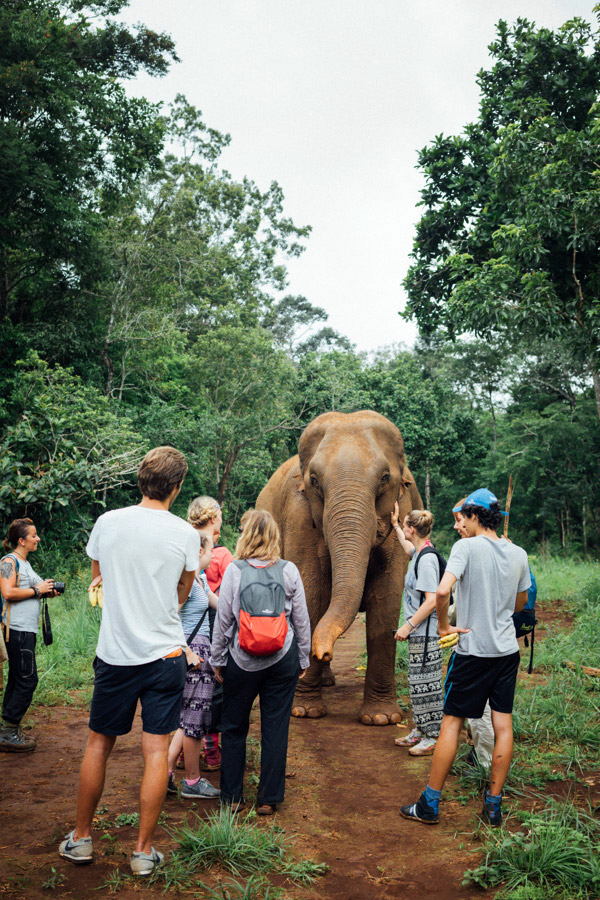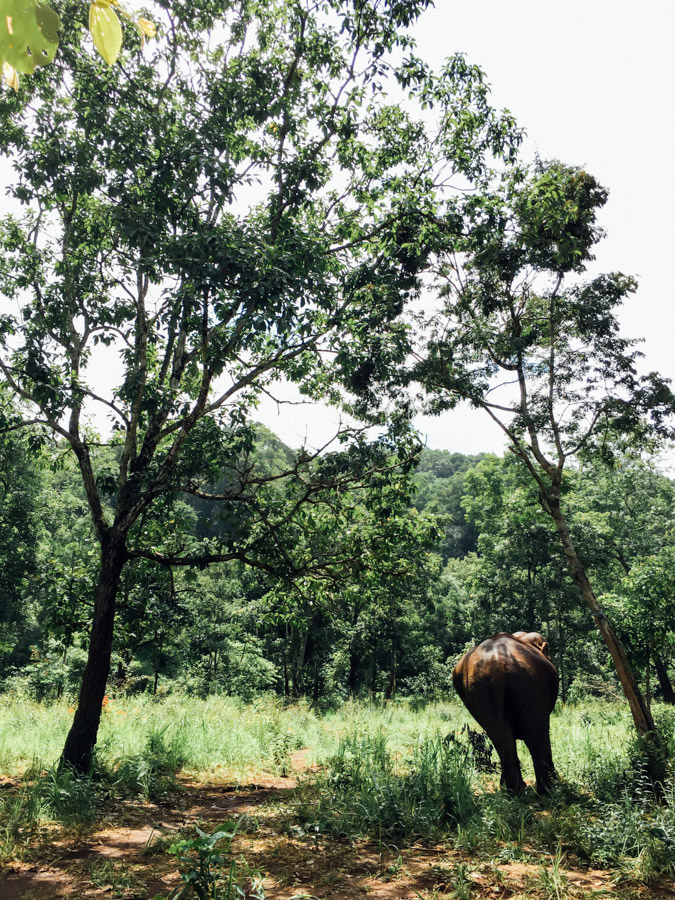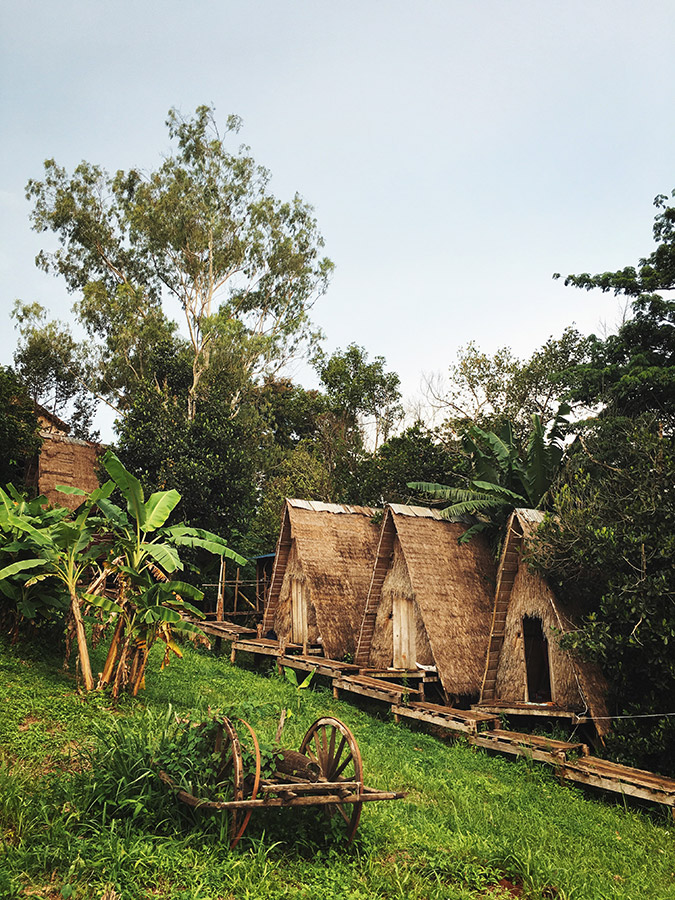 Links
The Mondulkiri province is the easternmost region of Cambodia. It is a 6-hour drive from Phnom Penh, or a 9 to 10-hour (painful) drive from Siem Reap in an express tourist bus. You can easily find transportation options through your hotel in Cambodia.
The Mondulkiri Project is a great non-profit in care for the elephants, the forest and tribal communities. Make sure to book a couple days ahead! We saw a few people get turned away. We were also recommended the Elephant Valley Project by @thenomadiclondoner. Whatever you pick, please be careful of tours or organizations without care for elephants.
We slept at the Tree Lodge in Sen Monorom, starting point for all hikes with the Mondulkiri Project and also a business of Mr. Tree. Food was delicious, bathroom was wild, and beds were awesome (albeit some mice poop on day two - there are warning signs!).