Family vacations - these times are precious and only ours, so we chose to share less than usual. Instead of words, you can see it through Madie's lens. Here was our trajectory:
 
3 Days in Bangkok
We stayed at the Eastin Grand Hotel Sathorn, where we had the best breakfasts and most expensive tours, though there's something to be said for French-speaking guides.
 
6 Days in Koh Samui
For this part of our trip we stayed at a beautiful Airbnb atop the hill near Bo Phut. We rented a car so we could explore the island on our own accord, visiting a waterfall with elephants, grocery shopping for our many homemade meals, and driving to the various beaches around Koh Samui. We also did a one-day fishing trip, and lounged by the pool - by day watching the storms roll in, and by night watching the lightning.
 
5 Days in Krabi
There's a lot more to do on this side of Thailand, such as national parks, temples, taking a boat to the amazing Phi Phi Islands, and (of course) beach time. We also stayed at an Airbnb that had complimentary tuk-tuk service, and a wonderful option to have a private chef prepare a traditional Thai dinner.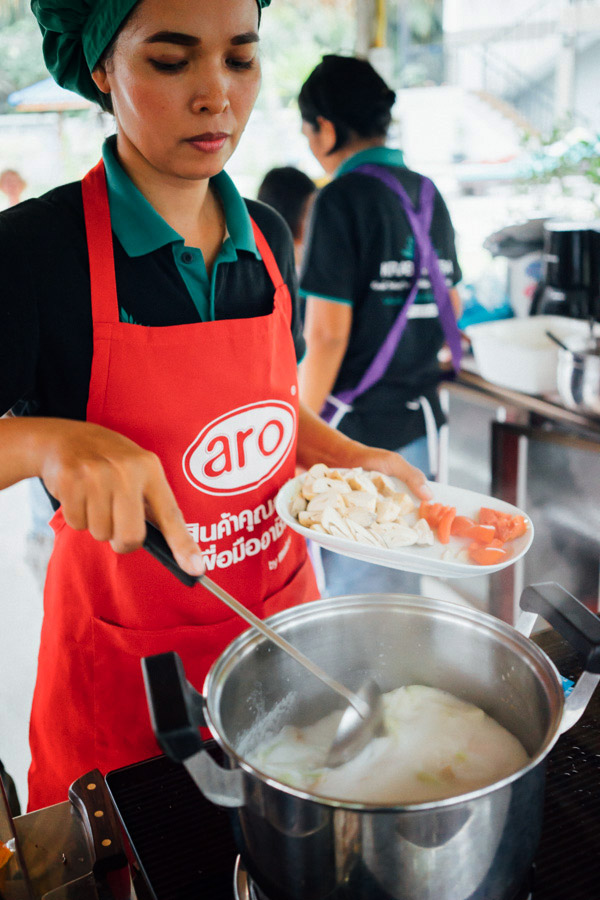 After my family returned to France, Madie & I stayed in Bangkok a few more days to decompress, take care of our Chinese Visas, and explore more of the city's delicious street food. Reflecting back on the past two weeks, if we had to change one thing, we would have spent more time in Krabi. (Avoid Phuket unless that's what you're all about.) We know there's so much of Thailand still left to explore, so we hope to be back to make a trek up north... maybe with our own infant?

Things we learned throughout this trip
Traveling with a two-year-old is hard, but immensely fun.
A recent study in The Onion revealed that vacation pleasure is reduced by 36% for each additional family member. Ah, maybe, but not really. :)
It turns out you can trek in the jungle for 3 hours with an infant, but not climb 1200 steps.
It's hard to teach a two-year-old that Madie's name is not Juju.
Bring a little white martian on a tour and he'll become famous in many tourist pictures.