Esbjorn Svensson Trio - Ballad for the Unborn
Ah, Bali. The top destination of Indonesia - the one people fly to - the one people come to eat, pray & love, and to perfect their yoga. Indonesia is a large archipelago of around 13,000 islands, and as big as it is, it was hard for us to find a way to Indonesia without visiting its most beautiful island, or so they say. We come here skeptical, doubtful, almost on alert. We decide to skip Gili and Kuta to avoid the 'worst' of it. But despite all our efforts, Bali, and more specifically Ubud, takes us by surprise. After a few weeks of bare walls and unfinished buildings in the Philippines and Labuan Bajo, we fall for the colors of houses, flowers and funeral structures; for the daily tradition of the Canang Sari; for the large green steps built by the rice terraces; for the numerous temples, each with their finite details, monsters and overwhelming peace. We meet the real Balinese, and their unique culture takes us away; the one that stood with its Hindu tradition while the rest of Indonesia became Muslim a few hundred years ago. Maybe we are still rookie travelers, too quick to love the unknown and the pretty, but the heart of the people of Ubud drew us into the Bali we didn't think existed: the peaceful, respectful and harmonious - the 'real' Bali, I hope.
Coming from Labuan Bajo, we land at the Denpasar airport and live our first bad experience with locals - a short altercation with taxi drivers. We were too smart for their own good and tried to work with the local Uber: GrabCar. The local mafia of taxi drivers did not appreciate so we have to walk a kilometer out to get our better price. We're getting used to walking out of airports. Trusting reviews on TripAdvisor, we make our way to a place called Pondok Permata, 5-10 minutes out of Ubud. It's a simple, quiet homestay in the Balinese style, owned by a single family who is quick to make us part of theirs. Putu (the son) gives us all the options for activities around here. We understand quickly that we just got lucky, so terribly lucky. Finding a family to understand the root of their country was all we ever wanted. A mere few hours after we dropped our backpacks, we decide that we will stay here until we leave for Java. Screw Gili, Kuta, the large beaches and cold beer; we'll take the fan room instead.
We settle on a scooter for the first day (for a mere Rp 60.000, or $5) to explore Ubud and its surroundings. We walk through the Monkey Forest, a park with multiple colonies of macaques and a couple large temples. As much as I dislike zoos, this is the best form of cohabitation between an animal shelter and the many tourists visiting it. There's an effort to maintain harmony and let the rainforest be, with its monkeys, birds and numerous plants. As we drive away, we come across large colorful structures shaped like bulls and horses. We'll understand later that they are sarcophagi to be burned at a later funeral (read more about this fascinating tradition here). We stop on the road for a cheap lunch (Rp 40.000 for two) with a view of roosters being prepped for a fight. We get to Goa Gajah, the Elephant Cave. At the temple, the cashier dresses me with a sarong, mandatory in any temple here. We avoid skillfully to pay for the extra guide, explore the premises and come to a small temple with an old lady praying. She blesses us with incense, gives us a small flower and puts rice on our forehead and throat. We feel somewhat special (but yes, she pointed to the donation box at the end, still she was super real and the rice was magical or something).
We roam throughout Ubud and the countryside on our scooter, speeding overconfidently through narrow passages. We see many temples that day, small ones, nestled between shops or behind restaurants. We pass by the local coffee plantation to get the 12-cup free taster of coffee and tea, and taste the famous Luwak coffee (or cat-pooh-ccino). As we come back to the house, we're hollered by Weci, the dad, who is playing at a local event that night. We follow him on the winding road at night to get to the show. It's a simple outdoor theater, and we're two of the six spectators. With other villagers, he plays the Jegog, an instrument made out of bamboo. His daughter is one of the dancers telling the traditional stories on farming, swans and love (of course). The show is fun and the dances beautiful - my still-working mind looks at their traditional hand movement and fear for bad cases of carpal tunnel. The bamboo music is surprisingly fun to listen to, full of deep beats created by the larger bamboo. We even get to step on stage at the end and try out the Jegog. A lovely end to a beautiful first day.
Weci drives us on the second day to the further temples. Just like in the Philippines, this is my favorite time; there's not much to hide when you're stuck in a car with someone for a few hours. He tells us stories about Bali, his village, and his house; we tell him about our travels and plans (still no kids?). We learn how some trees and statues becoming holy will be dressed in sarongs, what the tradition of the Canang Sari means, and what Bokashi is (the best remedy for mosquito bites, sore throat, stress and just about everything else). We drive by the beautiful terraces of Tegallalang, the perfect place for a photo. But he takes us on the back roads, and it seems that the entire countryside deserves a picture, with its lush forests and endless rice fields. He drives us to Pura Gunung Kawi and Pura Tirta Empul, large temple complexes that we explore for a few hours. The latter one is built around a natural water spring, revered by the Balinese; its water can cure all diseases. The Canang Saris are stacked near each water spouts. Locals who follow the tradition will put their head under every one of them. I decide against going in the water, too respectful to their tradition (or maybe just a coward). As we drive back (and hear more stories), Weci stops to buy Bokashi for us, and two portions of Babi Guling wrapped in banana leaves, one of the local delicacies that I can only describe as lechon with rice, blood sausage, and a spicy sauce. The local beer, Bintang, washes down the best lunch we've had in a while.
After a short sleep, we wake up at 2am for a sunrise hike up Mt. Batur. During the hour drive, we meet another guest of Pondok, Becca - our new friend from Seattle. We start hiking in complete darkness up a steep rocky path for two hours with our guide. It's steep, tiring and chilly. Our friendly talk with Becca stops early, leaving room for heavy panting. I hide cowardly behind Madie's need for stops to catch my own breath. Our breath is steamy - who would have thought we'd get close to freezing temperatures in Bali? After a long wait at the top, the sun starts showing rosy colors behind a sea of magnificent clouds. There is no landscape, only us above clouds, with larger formations at the horizon building a cloud-like mountain range. The sun peeks shyly through giving it a pinkish color, an enormous cotton candy. It's impossible to take pictures, at least not for me. I turn to Madie, only to find her sound asleep. I mistakenly wait to wake her up; a few minutes later, a dense fog comes in that would make San Francisco jealous. I guess the magnificent sea of clouds rushed onto us. We make our way down and finally see the landscape and nearby lake as the sun starts winning over the clouds. Lava painted the landscape in dark stone on which few things grow. Between the lava patterns are forest and fields of onions, chili, cabbage and many others.
We arrive back at our homestay around 9am and get a few hours of sleep. In the late afternoon, we meet another member of the Pondok family, the mom, for the mandatory cooking class. I learn to cook with tempeh, a more meaty version of soy thanks to the process of fermentation. I make delicious fried mashed potatoes (Bergedel), chicken satay with a spicy peanut sauce (Sate Ayam with Gado-Gado), fish in fresh coconut milk (Bumbu). I promise myself to buy a large mortar and pestle when we have a kitchen again. Simple recipes with always the same tricks: mash all spices in the mortar (never season on the mortar itself), mix with your deliciousness of choice, and preferably fry the outcome. Balinese food is spicy, not sweet, and full of character. And there is no beef around, because of the Hindu religion.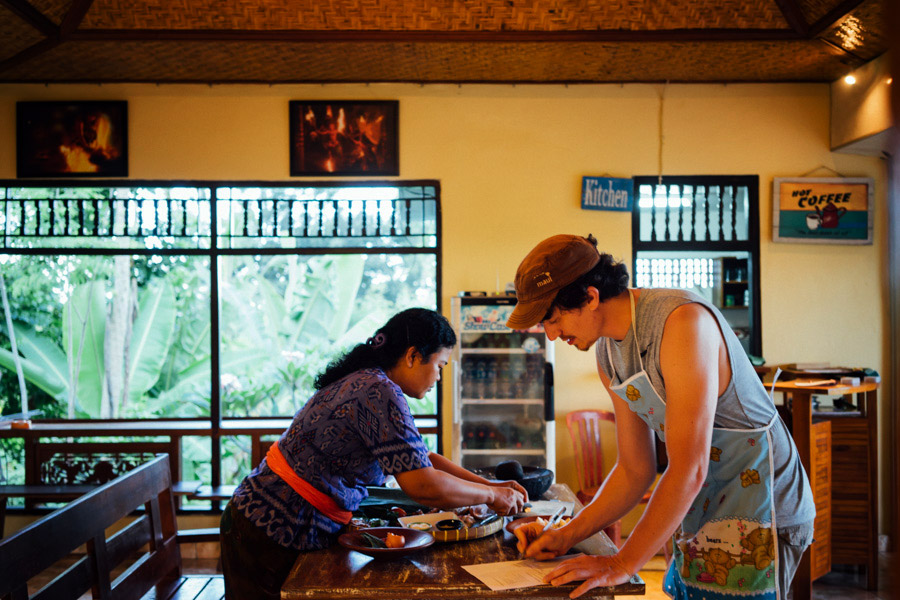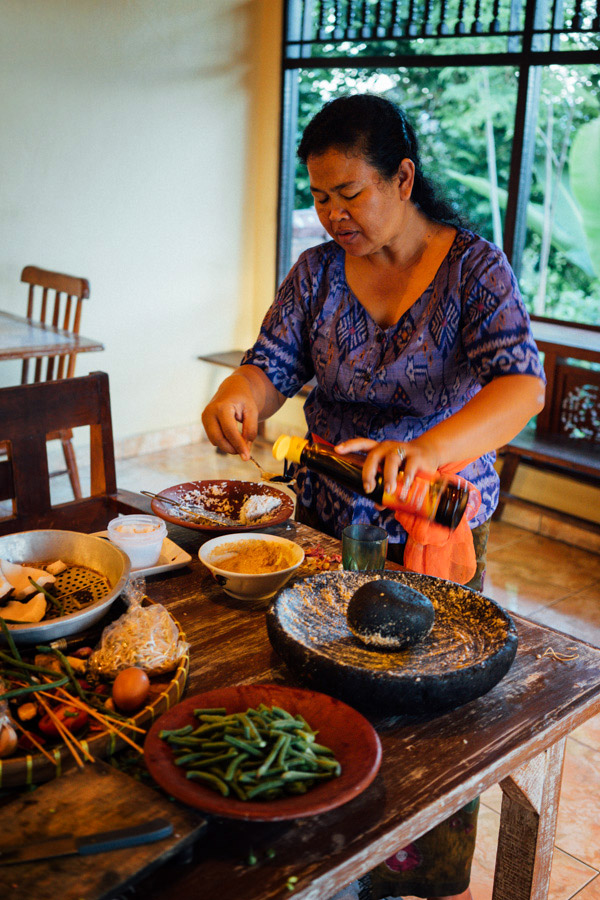 After a busy few days, we try to slow down to take it in. Ubud took us by storm, and it's time to let it settle. We have a couple more "rest" days here, in which we simply immerse ourselves in the culture and the small things. We eat regularly at the local warung, get a $6 massage, work and do laundry, and do our best to stop time from running. Ubud is a significant place for us, one where we were able to live with locals and get a taste of the peace of the place. Yes, it's not all perfect - we sometimes felt like a large walking dollar bill, whether in the Denpasar airport, the Mengwi bus station, or passing the many stalls selling overpriced sarongs near temples (all temples with entrance fee offer a free one). We know we pay more than the locals in most cases; the better places have domestic and foreign prices called out. Bali is a top attraction and this is felt throughout the island. But the stillness of Ubud, we have not felt anywhere else. We got lucky with the dear family at Pondok Permata, but it just seems easy to get lucky there, as long as you travel smart and don't give in to the obvious looking for tourist traps. And if you do, well, you may have spent a whooping Rp 100.000 more than you should - maybe. That's $7 for you, less than two Starbucks coffees. For them, it's a week of food. Personally, I've just decided that I would pick the right people to get ripped off from.
On the last day, I try to write down our experience with the Balinese culture and fail over and again; the blinking cursor is unforgiving. But we get lucky again. We forgot to tell Putu about staying an extra night, and he has to send us to another homestay 50 meters away, taken care of by his great-uncle Redjon. We get to a beautiful garden with a pond and a small wooden shelter for meditation; we are shown a pretty room with AC (we'll find out later that we stayed at the Redjon Guest House). Unfortunately, we can't stay long and wake up the next day in the early hours; we need to go to the bus station to start our journey to Java. We get coffee at a nearby shop and come back to the house. We're ready to pay, ready to go, as busy as we know too well to be. Redjon slows us down and asks us to sit to hear the story of Bali. I fall into his words and stories and learn about the Tri Hita Karana, the tradition at the root of the Balinese philosophy. It is used universally on the island, whether it is to build a new house, make a decision about the village, or act with a random person you just met. The literal translation is: "The three causes of well-being," promoting the following principles: harmony from human to human, harmony from human to God, and harmony from human to nature. In the last few minutes of our time in Ubud, I finally start to understand the place, and why I felt so at peace with its people, the city and the environment they are both part of. Everything is built with the Tri Hita Karana, whether it is to respect God, Nature or the People. All the social interactions with the Balinese are immersed with it. Everything, everyone follows it. We'll come back and follow it a little more, we hope, but for now we have to move on to Java - and a completely different experience.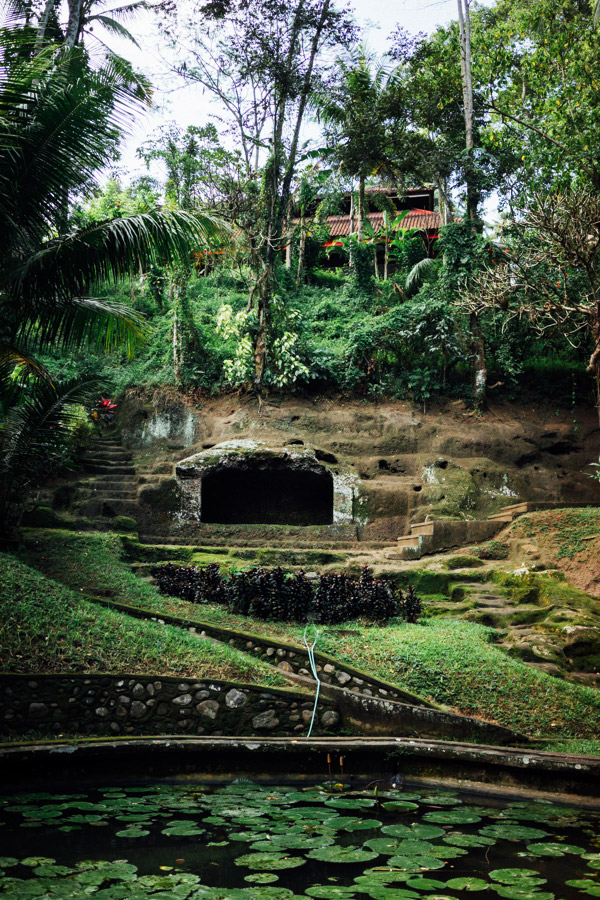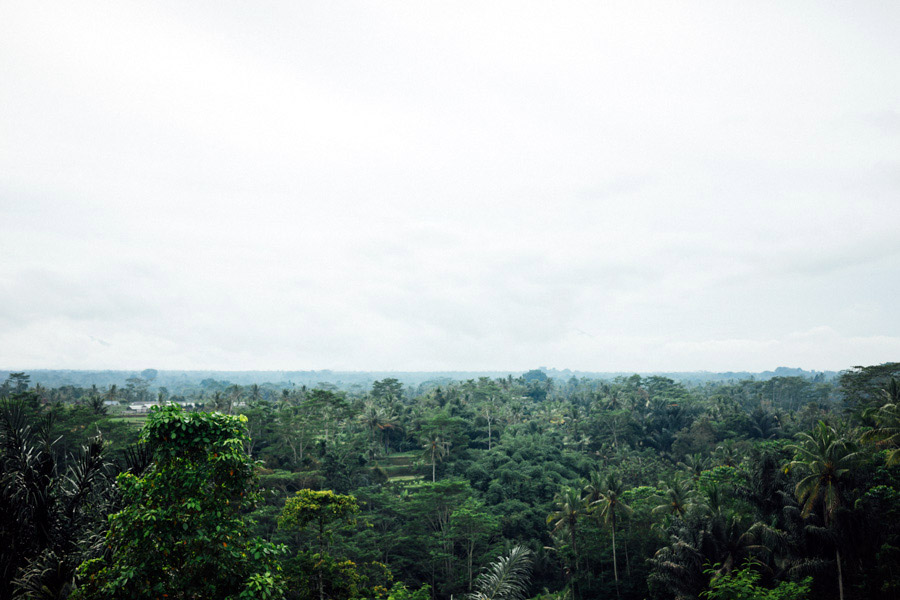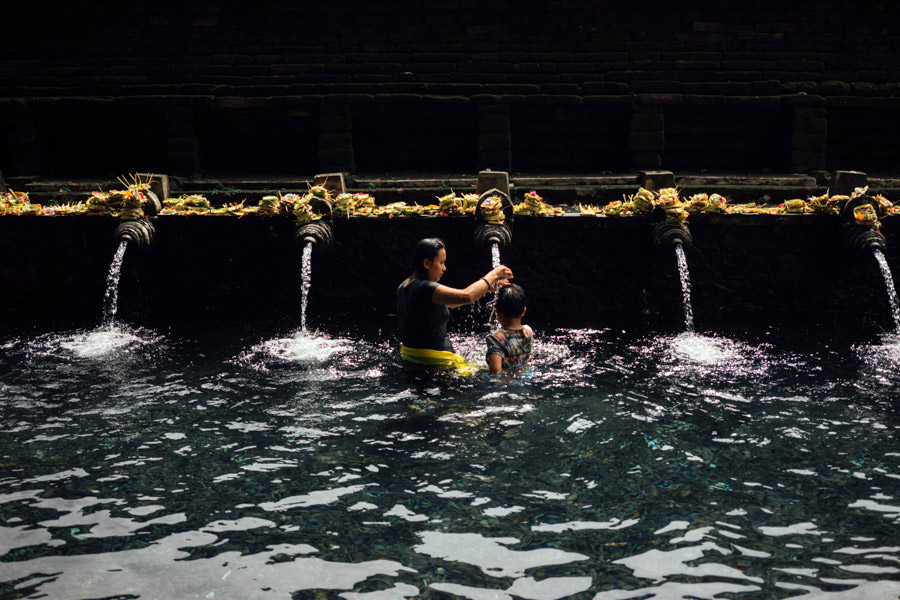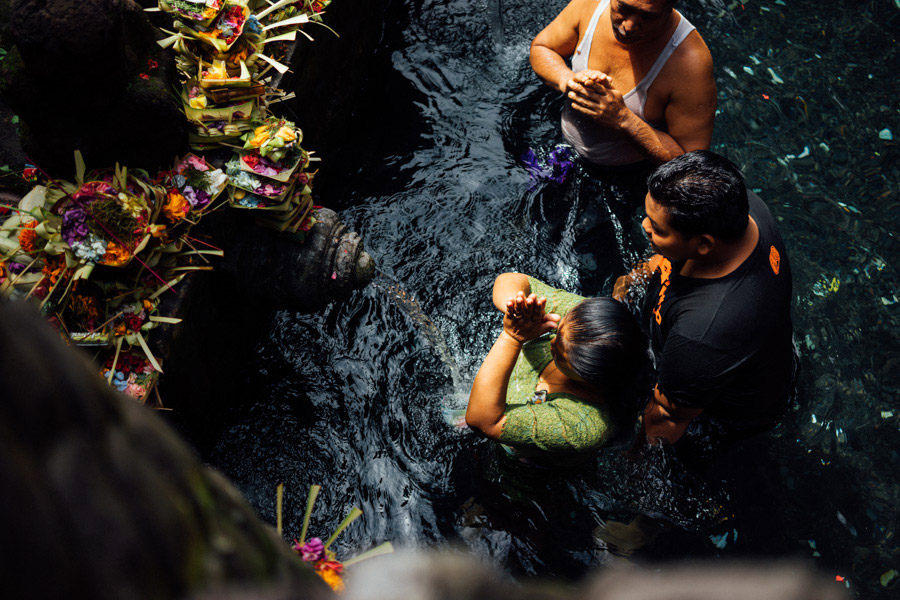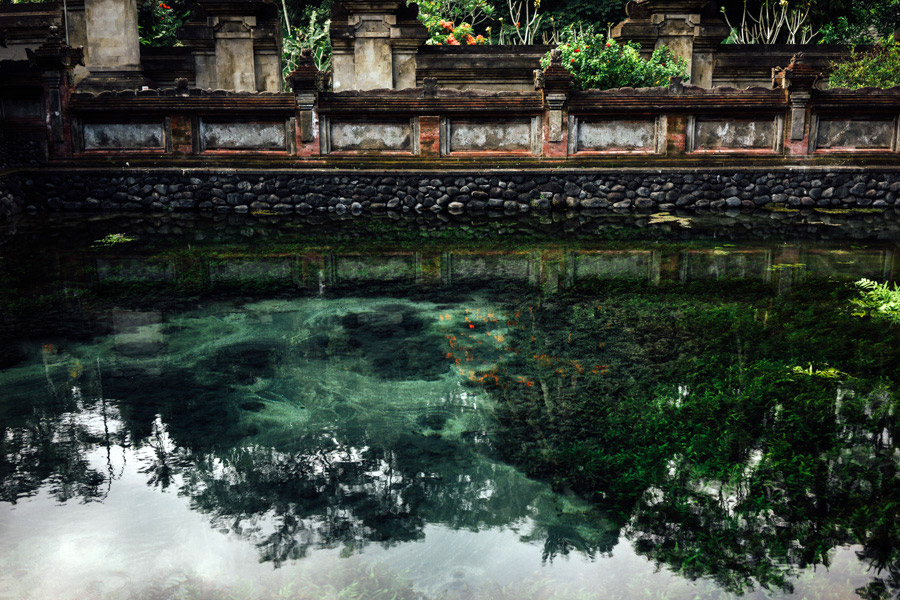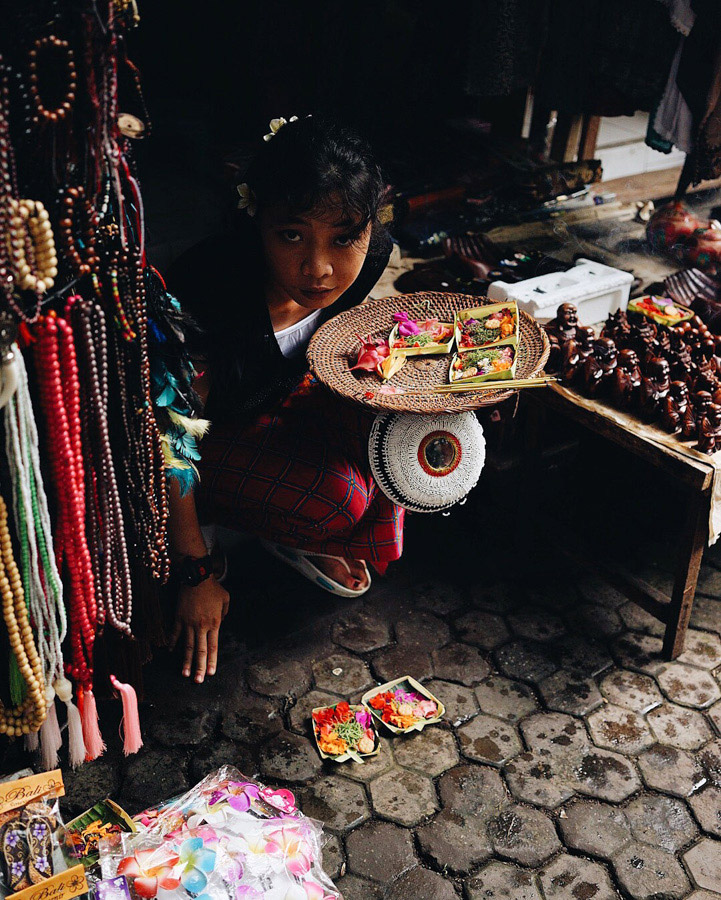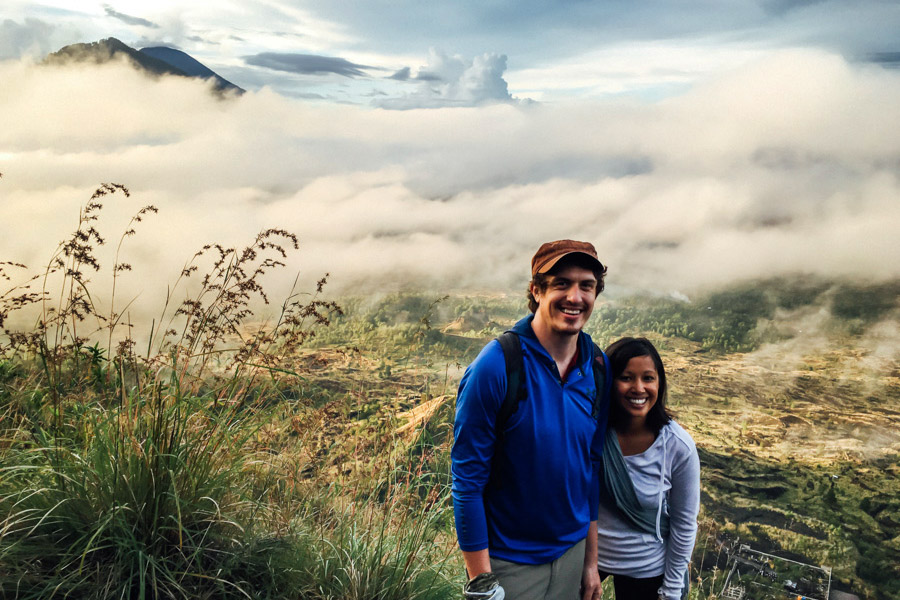 LINKS
Ubud was our only stop in Bali. We (purposedly) missed Kuta, and a short trip to the Gili islands, better places if you're looking for a beach vacation, with lots of parties and cheap drinks (or so we heard). We only regret not going to Lombok and hike up Mt. Rinjani, much better than Mt. Bromo as we were told.
Transport

If you make your way to Bali or other major cities in Indonesia, make sure to check out GrabCar.
From Denpasar to Ubud, taxis at the airport will quote you anywhere between Rp 200.000 to 350.000. Walk a little and take a GrabCar for Rp 160.000.
At the end of our trip, we took the bus from Denpasar to Banyuwangi on East Java. Bus leaves from the Ubung station or can be taken at the Mengwi station later on. Don't trust the ticket sellers at the bus station like we did, and get your ticket directly on the bus once you see one in that direction. We learned the hard way that they inflate greatly the prices. The bus ride to Banyuwangi, which includes the ferry crossing from Gilimanuk, took around 6 hours.